It takes something special to deliver the UK's most sustainable and forward-thinking shopping centre while remaining true to the layout and cherished listed buildings of a medieval city.
Hitting the on button for off-site construction
It used to be that when a new development was being built you could watch it going up brick by brick, floor by floor (assuming you didn't have better things to do, of course).
Things are different now. At Westgate, to improve quality, shorten the programme, and make the development less of a hostage to the weather, we are using off-site techniques that will also help to change our industry for the better. Many of the brick walls were built in factory conditions – something that's never happened on this scale before. This means we don't have to use any scaffolding, which reduces labour costs and makes site progress easy to see – a bonus for locals who pass by every day.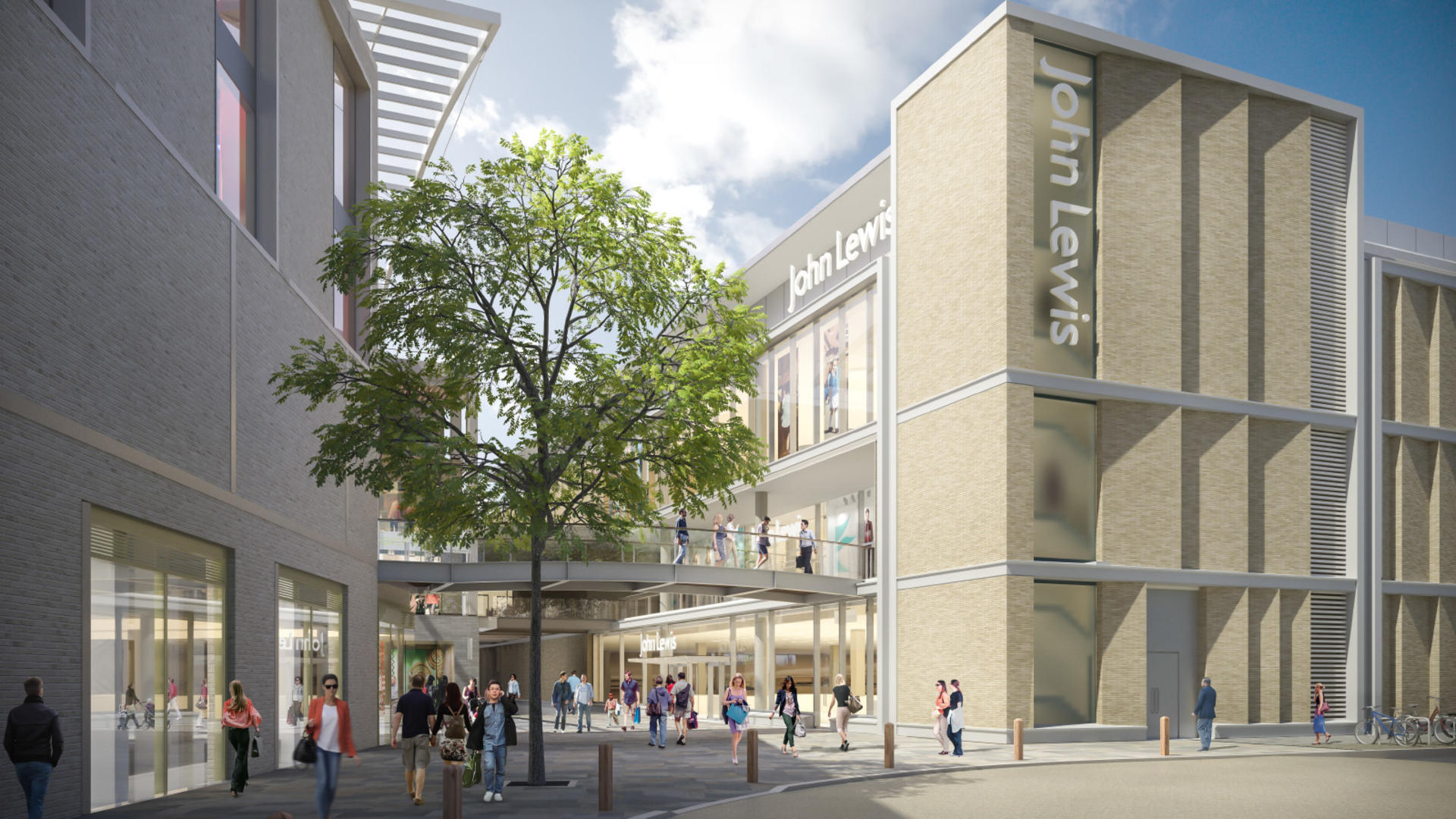 But it's not just external walls that were constructed off-site. The 13,000m² flagship John Lewis store fit-out, with its sustainable wall and floor panels, together with timeless design, was manufactured almost entirely at a separate location, another first for a major retail build. Given the feedback we've received from the John Lewis team, we fully expect other developers to follow in our footsteps.
Sustainability to create a lasting positive impact
We're also thinking about the future by introducing a number of first-of-their-kind environmental initiatives, ensuring Westgate will be one of the most sustainable shopping centres ever built.
One initiative that is changing industry perceptions is our whole-life embodied carbon target, which commits us to reducing the amount of carbon produced in Westgate's construction and in the 30 years after it opens. This is a first – not just for us but for the UK.
We're delighted to report that we've avoided the creation of over 30,000 tonnes of embodied carbon emissions, against our target of 25,777 tonnes. We now plan to do the same on other new projects.
What is embodied carbon, and why do we focus on it?
Embodied carbon emissions are involved in constructing our properties, including the manufacture and transportation of materials. Since embodied carbon makes up such a big part of our carbon footprint, we need to find ways to reduce it.
To hit our target, we adopted a number of key objectives, including the use of a high volume of recycled materials. For instance, we bought local recycled aggregate and used a type of concrete with a high recycled content. We also set up a disposal site close to the construction site, which meant we didn't have to transport waste far.
The ventilation systems have been designed to be as energy efficient as possible. Retail tenant's premises will be heated and cooled by heat pumps connected to a condenser water system, while walkways and malls are covered but not fully enclosed so they can rely on natural ventilation. Both features not only save energy, they also remove the need for unsightly ventilation equipment on the roof - freeing up some space for a kitchen garden with flowers and herbs.
Our challenge at Westgate was the delivery of a super-efficient energy loop with one of the largest deployments of centralised air source heating of its kind in the UK at its heart. The operational efficiencies of this system will contribute significantly to Landsec's goal of delivering the lowest carbon retail led scheme in the country."

Head of Retail, Hoare Lea
Our embodied carbon target is just one of the 45 that we set to ensure that our sustainability approach is industry leading.
These targets are split across eight sections related to the direct and indirect impact of the development, covering areas such as materials, waste, water, ecology, transport and community. Within each section we then set individual best practice targets split by stages and responsibilities to reflect the differing roles that we and our contractors play.
So far, we're on track to meet our 45 ambitious sustainability targets. For example, we've made great progress in keeping non-hazardous construction, demolition and excavation waste from landfill, with 99% of waste diverted thus far against a target of 90%.

We not only set these stretching, industry leading targets, but we also appointed an independent panel to monitor progress and make sure we and our partners strive to meet our commitments.
Retail that delivers for the local community
Community initiatives have always been part of our development projects but, at Westgate, they have been more extensive than ever and are already paying dividends.
Around 1,000 jobs were created during construction and, when complete, we expect the new centre to employ more than 3,000 people – a significant boost to the local economy.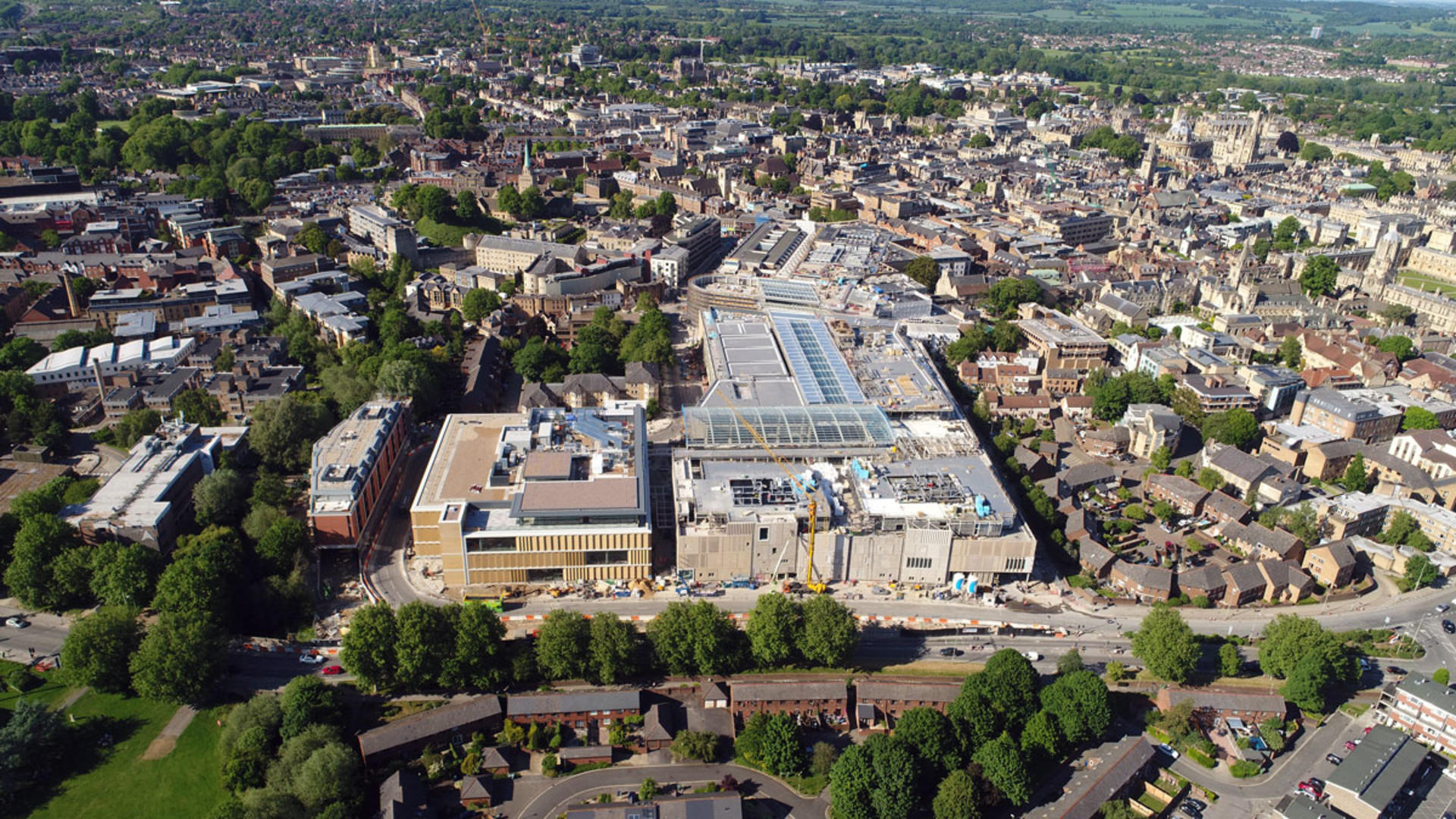 To make people aware of the potential opportunities, we launched initiatives to encourage them to consider a retail career. Just one example was our engagement with local sixth forms and colleges to launch the Made in Oxford challenge. Students from Oxford Academy, St Gregory the Great School and City of Oxford College were set an Apprentice-style challenge to create a new product for a pop-up shop that will be launched in the new shopping centre. The winners, who designed handcrafted canvas tote bags, will sell to the public when Westgate opens.

Landsec has also partnered closely with local charities like Aspire Oxford, which works with ex-offenders, the long-term unemployed and those who have been homeless in the past. With our support, Aspire is running two pre-employment programmes in construction. Candidates learn construction skills and find roles on our Westgate site, or with our construction partners on other sites. We've planned further programmes in customer service – due for launch next year – so Westgate can have a long-term impact on employment once it's open for business.
By engaging proactively with Landsec and their sub-contractors on the Westgate, Oxford project we are delivering credible social impact in Oxford and embedding employment outcomes for men and women from disadvantaged backgrounds at all opportunities."

Chief Operating Officer (Employment & Partnerships), Aspire Oxford
We intend to use everything we've learned here to improve the way we interact with local people in future developments.
Opening up a cycling city
Oxford's medieval street layout means traffic can get very snarled up in the city centre, particularly in rush hour, so we've extended opening hours into the evening to try and spread the load. We've also included easy connections to the city's pioneering Park & Ride scheme to provide a seamless customer journey.
However, we've looked beyond cars towards the changing nature of transport systems across the UK. Oxford is already one of the leading cities when it comes to cycling so, at Westgate, we've introduced 1,000 cycle bays – matching the number of car parking spaces
This experience is helping to refine our thinking on changing transport trends as we future-proof our portfolio – from offices with state-of-the-art facilities to leisure centres with easily accessible cycle storage.
It is perhaps only fitting that a city at the centre of so many scientific breakthroughs should be home to a pioneering scheme like Westgate. As a development it is setting new benchmarks for our entire industry.
Westgate opens in October 2017.