The purpose of this information notice is to provide you with information about the cameras used in Piccadilly Lights and the technology that is used to make Piccadilly Lights an interactive and experience-rich location.
Who owns the cameras?
The two cameras are ultimately the responsibility of Land Securities Properties Limited.
Where are the cameras?
The cameras are located at the front of the Piccadilly Lights screens as shown below by green dots.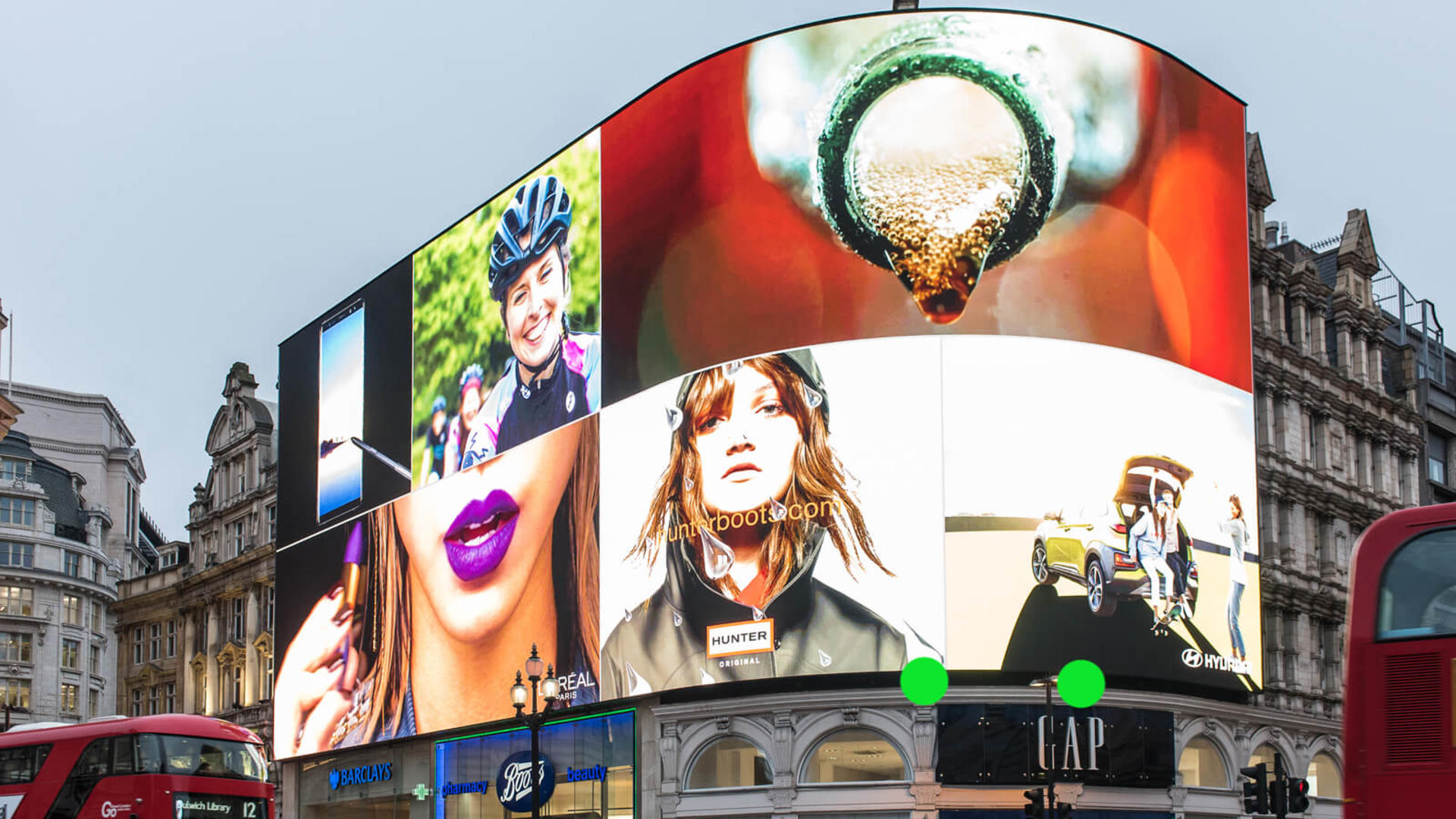 What is the technology doing?
We have cameras installed at Piccadilly Lights which are able to detect faces within their view. Facial detection is very different from facial recognition – facial recognition looks for and identifies a particular person, whereas facial detection only looks for the presence of a face.
We cannot, nor would never want to, use the technology to identify someone's face.
The cameras detect faces in the crowd around the Eros statue in Piccadilly Circus, and when they identify a face the technology works out an approximate age, sex, mood (based on whether think you are frowning or laughing) and notes some characteristics such as whether you wear glasses or whether you have a beard.
This all happens in the blink of an eye - and no images of your face are stored by the system. It also won't remember you – so if you leave the view of the camera and come back, it will think you are a new person as it has no memory of the face it saw previously.
The cameras also time how long you are in view of the camera and how long you are staring at the Piccadilly Lights, but when you turn your face away from the camera, it forgets you.
The information of all the faces is added together so we obtain a summary of the age and sexes of people who visited Piccadilly Lights at any given time.
So why do we do this?
Based on the information we have collected about the overall population in Piccadilly Lights, we can display advertising on Piccadilly Lights that the audience are more likely to find relevant and interesting. We can also measure whether people are interested in the advertising by understanding how long they are staring towards the camera.
None of the advertising will ever be targeted at children.
Where are the images of my face held?
The image of your face is held for micro-seconds to allow the system to determine your face's age and sex. The images are not retained, and when you leave the view of the camera it has no memory of your face.
The information linked to your face – your age, sex and mood – is kept and combined with the information from other people's faces, however; there is no way to link this data back to the image of your face, as this image of your face is not retained.
This information was last updated on 27 April 2018.