We support people furthest from the job market by providing training, work placements and a direct route into a job.
Our commitment: Help a total of 1,200 disadvantaged people secure jobs by 2020.
Progress: Since 2011, we've helped 1,200 people into work.
Our Community Employment Programme targets people furthest from the job market including homeless people, NEETS, the long-term unemployed, veterans, ex-offenders and serving prisoners, to help them find employment with our partners, customers and supply chain.
By partnering with charities, local authorities and specialist training providers, we offer a suite of employment initiatives to local candidates. In this way, we can boost local economies and strengthen our workforce, as well as that of our partners.
What we've achieved through our Community Employment Programme
In 2011, Landsec set a target to help a total of 1,200 disadvantaged people to secure jobs by 2020 through our Community Employment Programme. We are pleased to report that in 2018 we exceeded that target, an achievement we would not have realised without the passion and hard work of our partners.
I'm thrilled we've achieved our target of supporting 1,200 people into work through our Community Employment Programme. Being able to bring local talent into our industry and beyond is hugely exciting and something we're very proud of."

Managing Director, Landsec
Our focus on offering more opportunities in customer service across our London business and our shopping centres is a reflection of our strategic shift away from development activity towards more asset management.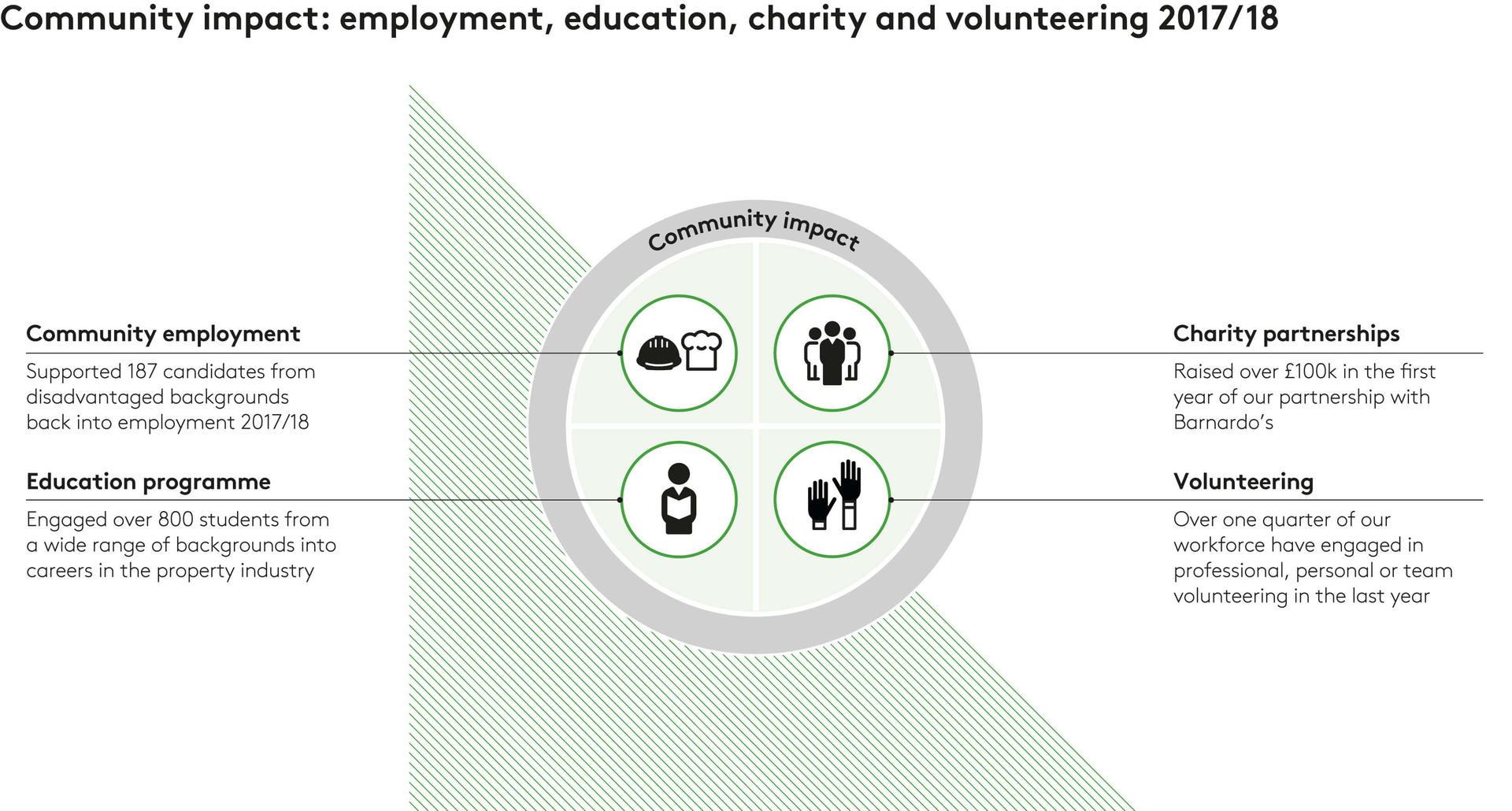 Helping those inside make it outside
Serving prisoners and ex-offenders face multiple barriers into work, however finding sustainable employment on release can reduce re-offending significantly. With this in mind, and the fact that there are significant taxpayer costs to keep someone in prison and on benefits, we looked for ways to support ex-offenders into work.

We started by working with charity and social enterprise Bounce Back in 2015 (we'd already launched a dry lining training centre in HMP Brixton in 2015, the first of its kind in the UK). In 2016 we worked with Alandale Scaffolding to launch a scaffolding training centre in the prison, another UK first. Both training centres address the need to fill significant skills shortages in the construction industry, in addition to reducing reoffending rates.
Landsec have helped us create a unique model of construction industry sponsored training that can be applied across the sector [and] do more towards reaching our mutual goal of stopping people coming back to prison because they have the skills, confidence and earning potential to manage on the outside."

CEO, Bounce Back
Bounce Back's recent impact report showed that the reoffending rate of people who had been through its programmes was less than 12%, compared with a national average of 50%.

We're also working with The Right Course, a programme at HMP Isis started by Fred Sirieix and the DM Thomas Foundation for Young People, which helps serving prisoners develop their hospitality and customer service skills to give them the knowledge and confidence to find work on their release.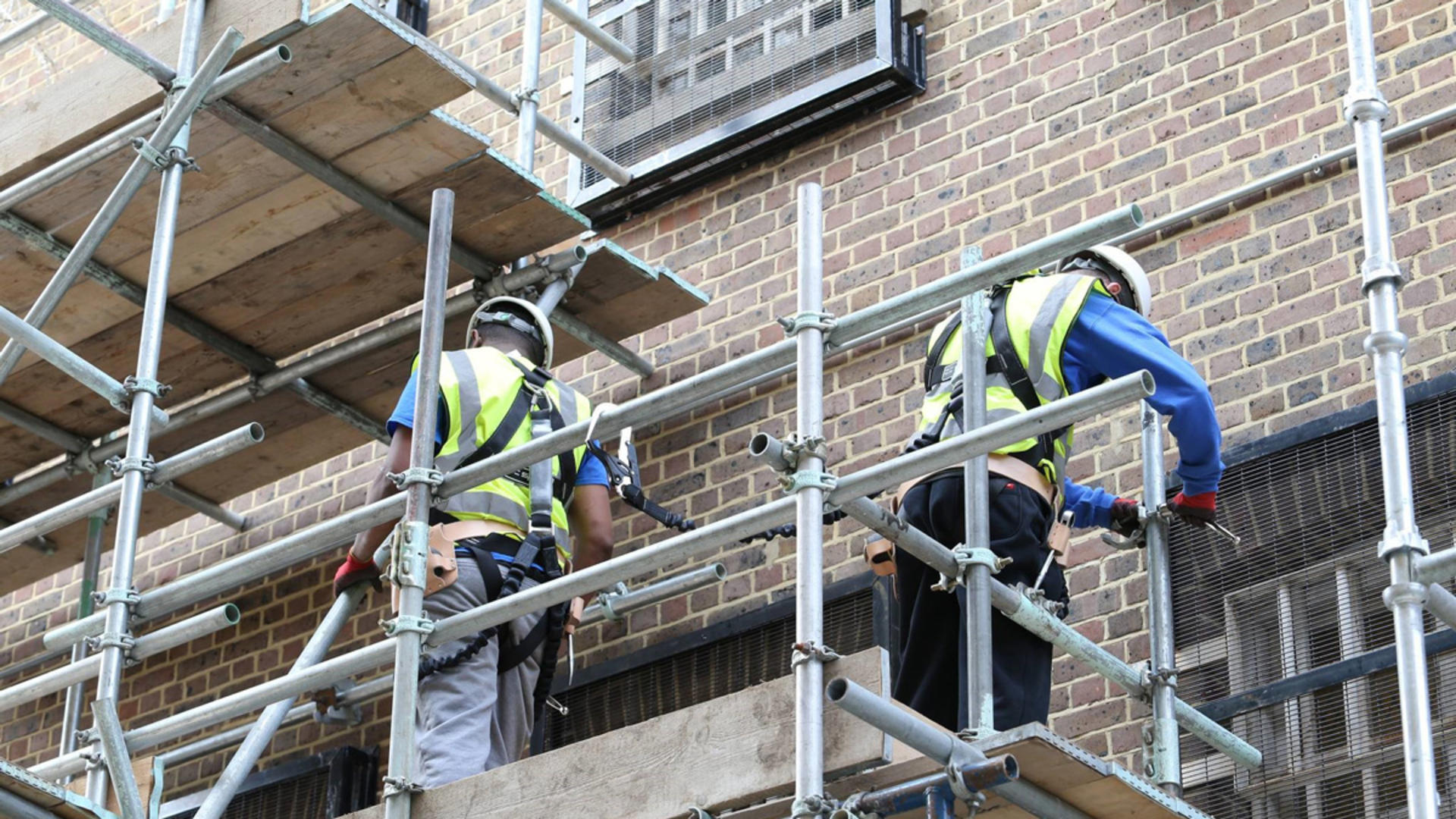 Aerial window cleaning training academy
In September 2018, in partnership with London-based charity Bounce Back and cleaning services company NJC, we launched the UK's first-ever aerial window cleaning training academy at HMP Isis.
The academy trains people serving their final six to twelve months of their sentence at HMP & YOI Isis to scale and clean high-rise buildings. With a focus on rehabilitation it provides the opportunity to obtain a qualification that can be transferred into employment following release.
Working with partners such as Bounce Back, 24% of all the employment opportunities we have helped to create since 2015 have been for ex-offenders.
It's an incredible thing to give people a second chance to turn around their lives and above all to help people into employment, with all that means for personal and family lives, our communities, and ultimately for the whole of our society."

Prisons Minister
Get into St David's programme
We've engaged brand partners at St David's, Cardiff, including John Lewis, Primark, GAP and River Island to participate in our 'Get into St David's' programme in partnership with the Prince's Trust. The Prince's Trust 'Get into' programmes are designed for young people aged 16 to 30 who are not in work, education or training (NEETs), with the goal of improving employability skills by providing candidates with pre-employment training and work experience. In 2018, eight candidates from disadvantaged backgrounds in Cardiff completed the two-week programme, with four candidates being offered employment immediately afterwards.
Supporting the Armed Forces community
As a member of the Armed Forces Corporate Covenant, we actively support the Armed Forces community through awareness events, fundraising for the Poppy Appeal across our sites and employment opportunities through our supply chain.