Using less energy is fundamental if we're to meet our long-term emission targets and keep making our spaces affordable for customers.
What we've achieved
Since 2013/14 we've reduced our energy intensity by 18.2%. This equates to a total of £4m per year of avoided costs for customers. To do this we've continued to work with facilities management partners to harness the vast amounts of data our building systems produce. Doing this helps us drive energy efficiency and proactive maintenance and optimise the customer experience within our spaces.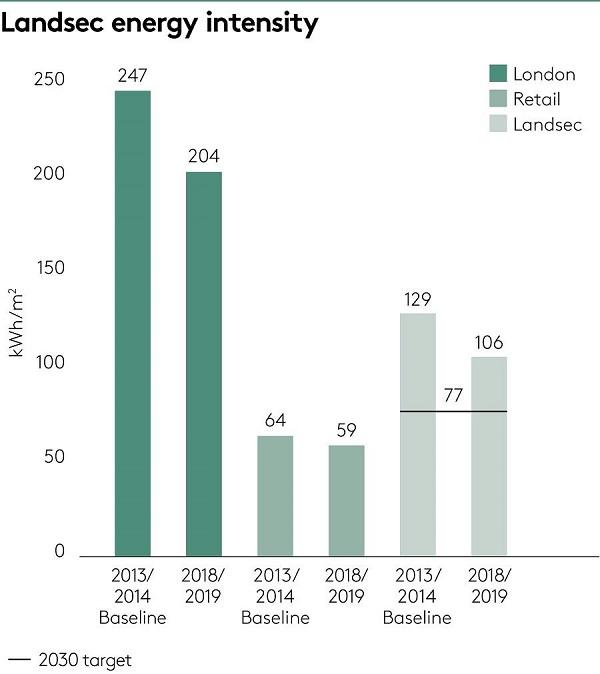 In addition to delivering £4m worth of energy saving projects we have focussed on engaging and supporting our customers to identify energy reduction opportunities within their own areas. This is helping to improve the efficiency of the space they occupy and support their own sustainability commitments. Our support has included providing key customers with detailed energy reports with energy saving recommendations. We've also delivered energy saving projects within customer demises where there's a shared benefit.
At 7 Soho Square, for example, we've partnered with the building's largest customer to install LED lighting on its floors. We've forward funded over £234,000 for the project and will recover this investment via the savings delivered to the customer. The new lighting reduces the building's electricity usage by 13% and saves 47 tonnes of CO2 per year, while improving the look and feel of the offices. At Bluewater shopping centre we replaced all car park lampposts with LEDs, delivering a saving of 832.458 kWh and £101,000 in the first 6 months. We're looking for similar opportunities across the portfolio.
At our retail destinations, we have focussed on upgrading our lighting, retrofitting LEDs in car parks, malls and other landlord areas. Aside from reducing energy costs and consumption, LED lighting cuts CO2 emissions, reduces maintenance burden and helps to enhance the guest experience.
Across the group, we've rolled out our market leading Business Focussed Maintenance (BFM) regime with service partner NG Bailey. We've made a systematic change to the way we maintain our buildings to make targeted energy saving interventions rather than ineffective periodic checks. We're doing this by using the latest data technologies which interpret data from our many different building management systems and analyse the huge amount of data we generate.