Working with our supply partners
At Landsec we're committed to ensuring that all forms of work in our supply chain associated with our projects and contracts are voluntary and fair, and that the safety, health and wellbeing of all workers is a priority.
We also recognise that we can't solve key sustainability issues such as climate change alone and it's crucial that we collaborate with our supply partners to drive positive change across our value chain.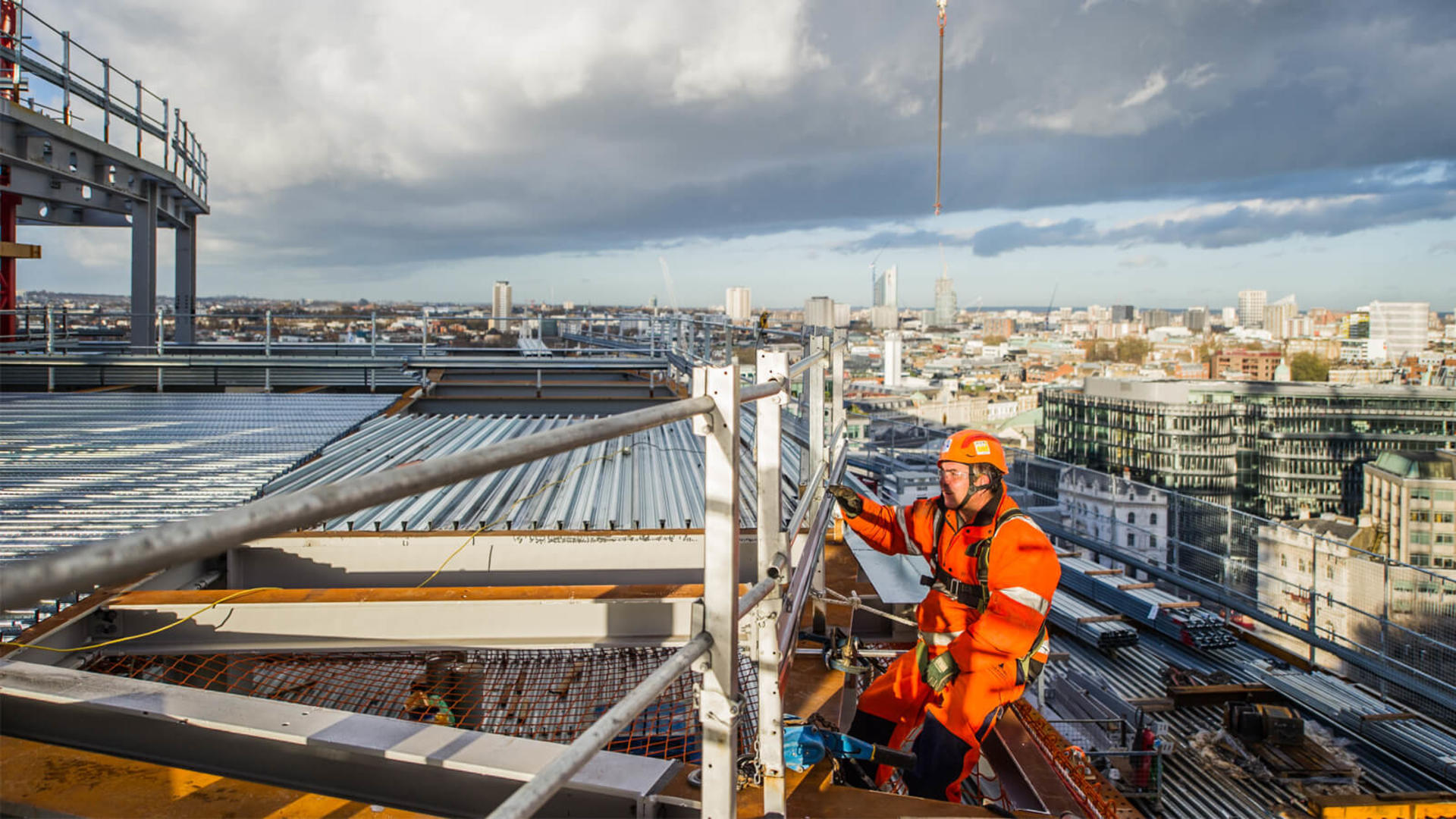 About our suppliers
Our business model of developing and operating properties relies on a network of suppliers. We work with around 170 UK-based companies on a contracted or annual basis, usually referred to as our 'partners'. This includes maintenance services such as cleaning and security, construction contracting services and professional and financial services.
In addition to our partners, we source goods and services from a wider network of 1908 tier 1 suppliers. These are UK suppliers which provide everything from paper and stationery to seasonal decorations.
Our construction partners also source a broad variety of components and materials from companies all over the world on our behalf. Whilst these goods are not sourced directly by us, they are specified and procured in accordance with our guidelines.
The power of partnerships
To tackle problems such as poor labour standards, reliance on fossil fuels for material production and health and safety challenges, we're working in partnership with our suppliers, using our experience to approach each new challenge.
Addressing these issues also helps create value for our business and our partners. Reducing carbon emissions, resource consumption and waste as well as improving diversity in our supply chain can improve efficiency and reliability which contribute to cost savings. It can also enhance our resilience to future climate related impacts and market volatility.
Supplier selection
Pre-qualification questionnaire
To be accepted onto Landsec's supplier list, and subsequently transact business with us, all organisations are required to complete a pre-qualification questionnaire in which they must declare the existence of, and compliance with key policies including our Health and Safety Policy, and Sustainability Policy.
Tender process
We support robust implementation of our sustainability aspirations through additional procurement processes and procedures. As part of the tender process we issue our Sustainability Charter and policies, which partners must adhere to as a minimum requirement. Our Request For Proposal (RFP) document outlines expectations and requirements of a proposed supplier and requires full responses to a suite of sustainability questions which align with our sustainability strategy and charter. As well a standardised set a of questions, information is requested specific to the goods and services being procured such as requesting details of emission performance of a supplier's vehicle fleet.
Once partners are appointed they must then report against specific Key Performance Indicators on a quarterly basis. For goods and services which may have an impact on our sustainability programme we ensure members of our sustainability team form part of the tender process which include evaluating responses and attending supplier presentation.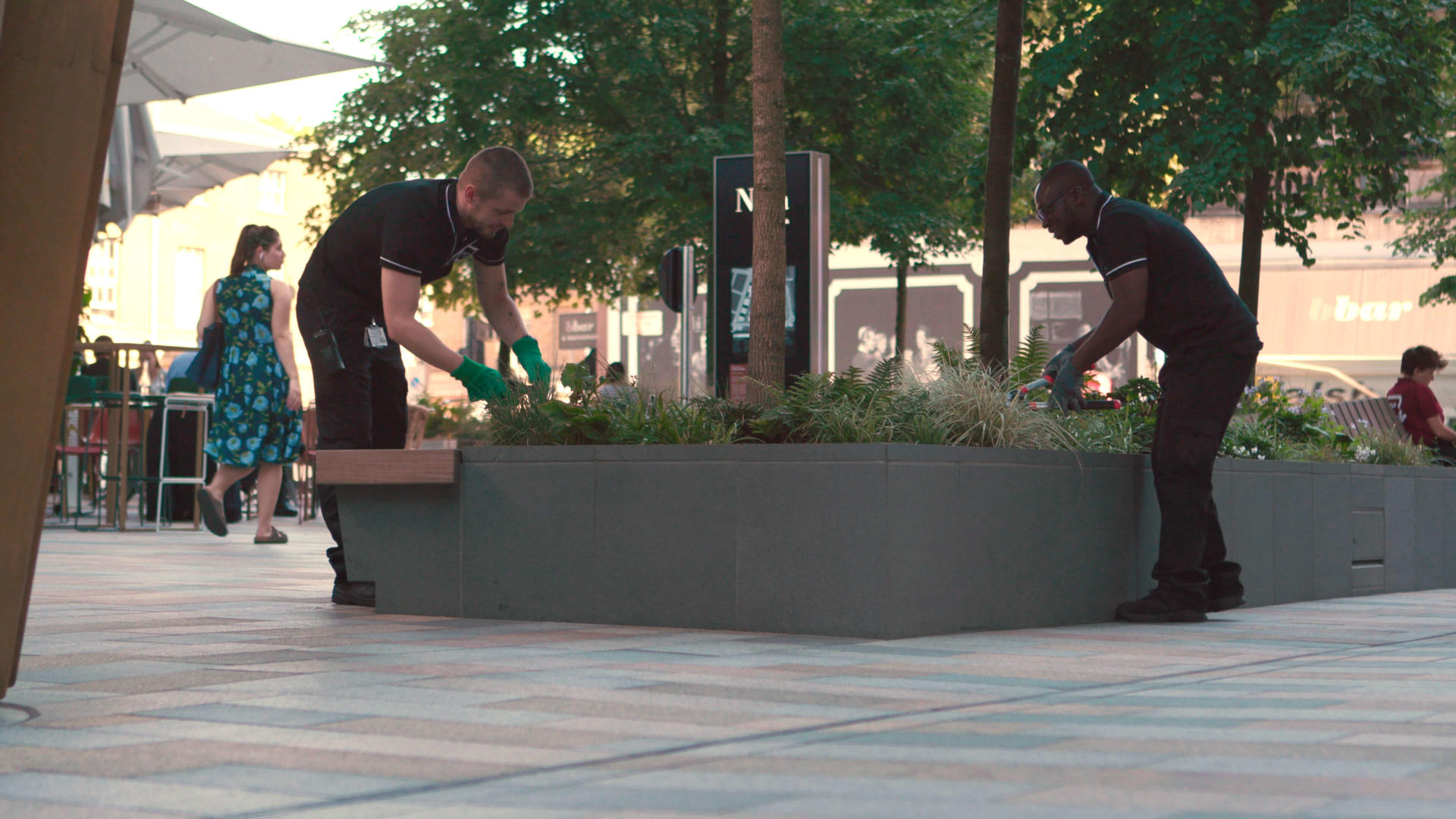 Supplier engagement
Sustainability brief and charter
Our Sustainability Brief for developments and Sustainability Charter for suppliers are designed to facilitate productive discussions with our supply partners, driving up minimum standards and increasing collaboration. Through application of our Sustainability Charter in procuring contracts and projects, we ask all our partners to commit to our partnership pledge which outlines our non-negotiables, such as providing safe, comfortable and healthy working conditions for our partners' employees.
The charter also covers all twelve areas of our sustainability programme in detail, setting out what our commitments mean for partners - everything from community employment and fairness, to biodiversity and waste. Each area is divided into two sections: expectations, things we think our partners should already be delivering, and opportunities, areas for innovation that we've identified scope to work together.
Importantly, we're not mandating complex targets through our contracts, instead we're working to get everyone on board so our sustainability objectives become business-as-usual.
Supplier Code of Conduct
We're committed to high ethical standards in the conduct of our business and to ensuring our behaviour and practices maintain our integrity. Our Supplier Code of Conduct within our Sustainability Charter sets out how we treat our supply chain and the standards of behaviour we expect of our suppliers in the way they work and treat their own employees.
Whistleblowing hotline
Our Whistleblowing Hotline  allows anyone working on our behalf to report concerns about suspected impropriety or wrongdoing in confidence and anonymously. These include an independent third-party reporting facility, which can be contacted online or through a telephone hotline.
We actively promote our whistleblowing policy and facilities to raise awareness of this method of reporting concerns and have made this available to workers in all parts of our supply chain through our partner organisations.
Responsible sourcing
Who we work with and who we purchase from is important at every level. From the design team and main contractor to the operatives on site and producing materials across the UK and abroad. But supply chains in construction are often fragmented and transient. That's why we've got to work to clear guidelines.
We have a corporate commitment to source core construction products and materials from ethical and sustainable sources and our guidelines for developments are simple. Core construction materials including steel, concrete, hard landscaping and facades should always come with responsible sourcing certification. Where certification isn't available, we ask for evidence of basic health, safety and environmental management. And for every development we always target FSC Project Certification, to guarantee timber is from responsible sources.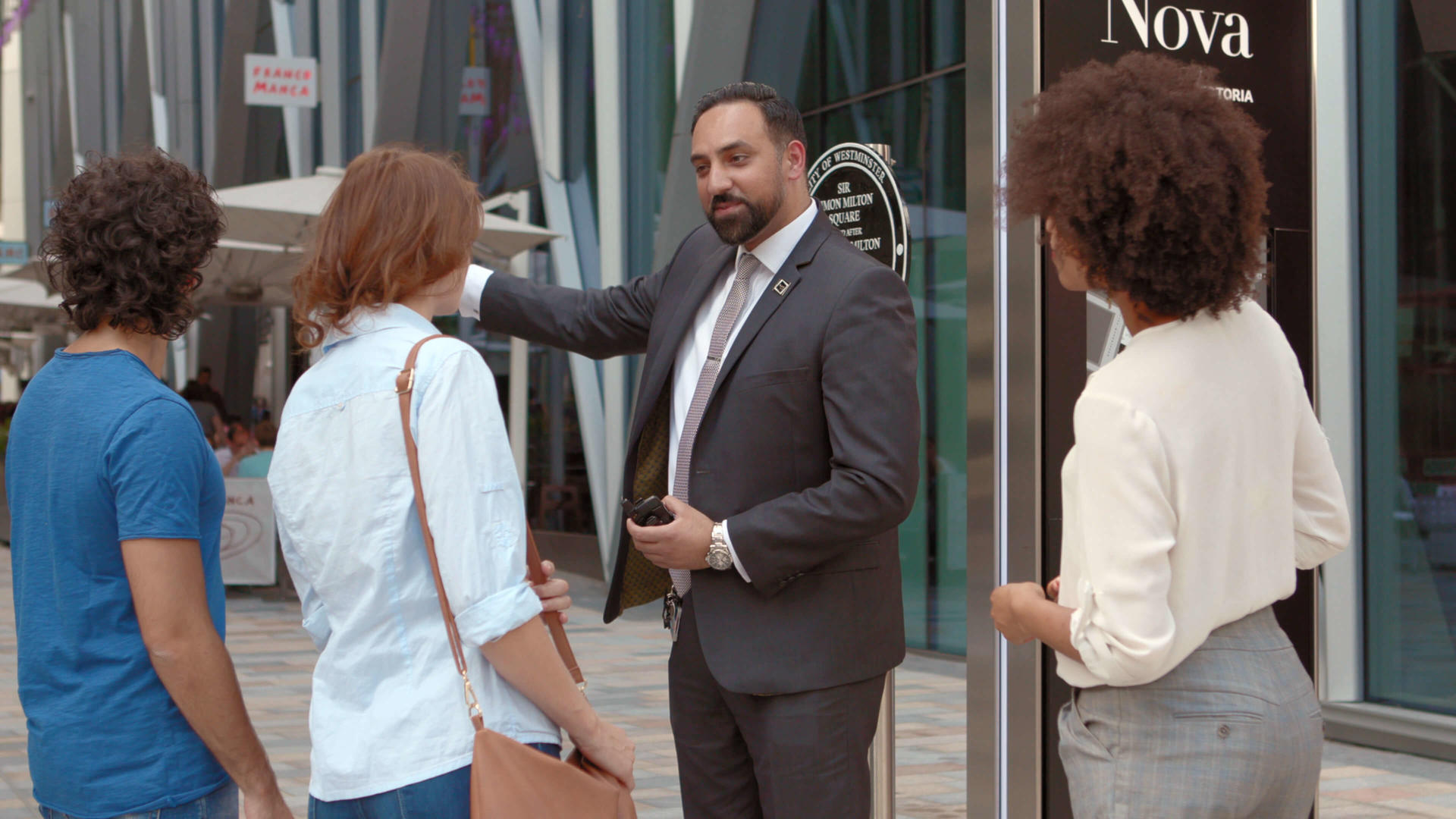 Monitoring supplier performance
Ongoing sustainability monitoring of our supply partners takes place in a number of ways across our business.
Contract review meetings
These are carried out at various intervals with our supply partners where we have the opportunity to raise and discuss key sustainability related issues:
Six monthly reviews: Our Property Services Team meet with a supplier's business MD, regional and account team to discuss contract performance.
Quarterly reviews: Our Property Services team to meet with a supplier's Account Management Team to discuss performance.
Monthly reviews: Our Local teams meet with their respective Regional Account Managers to discuss performance.
Contract reporting and KPIs
We use our 'Contract Reporting and KPI Requirements' document, first to assess supplier performance at the point of on-boarding then on a quarterly basis to assess ongoing performance. Partners are then challenged to improve where performance is deemed to be insufficient or where the partner may not be exploiting opportunities available to them.  This applies only to service partners where we have an ongoing relationship which can lead to improvements over time.
The document requires our supply partners to provide statements and evidence that include:
The percentage of contract staff receiving Foundation living hourly wage rate or higher excluding apprentices in the period.
Current plans policies or programmes to reduce carbon emissions.
Current plans policies or programmes to procure renewable energy
Measurement and management of energy consumption including how this aligns with Landsec ISO 50001 standards, Environmental, energy and metering polices. 
A commitment to addressing climate change and plans for its effects on their operations including but not limited to flooding, storms or overheating.
The procurement of materials in a safe and healthy manner and that the materials purchased minimise environmental impacts, pollution or carbon emissions, by way of the manufacturing or transportation.
If a supplier meets the requirements we set out can result in performance pay which is a 5% increase in the contracted sum paid in excess of normal pay for the period. This ensures good sustainability performance is also met with improved financial remuneration which has a positive effect in creating a successful long-term partner relationship.
Assessing risk in our supply chain
We assess risks in our supply chain on an ongoing basis through a number of methods.
Worker engagement surveys
In 2018 we undertook our first annual due diligence process in the form of worker engagement interviews with members of our supply chain workforce throughout our development and operations activities. The interviews were designed in collaboration with our Health, Safety and Security Team to adequately cover all areas of our sustainability programme and were carried out by accredited supply chain consultants Achilles. Surveys were undertaken at ten sites in both London and Retail, taking into account both development and operational activity. Representatives from Achilles spoke to 252 workers in our supply chain in low-paid, high churn occupations including security, cleaning and construction labour.
As part of this process we continued to engage our delivery partners to ensure that they pay everyone a Living Wage by 2020. Our tenders and contractual clauses now stipulate this requirement. Our due-diligence process therefore serves as the audit and monitoring processes to reinforce our contractual requirements and ensure people are paid correctly.
In response to the survey findings we sought guidance from The Gangmasters and Labour Abuse Authority to determine how we could improve our processes and dialogue. They are supportive of our continued engagement and recommended how and when to report suspected cases of modern slavery related issues. Findings of the surveys and our planned response are included in our 2018 Modern Slavery Act statement to demonstrate the steps we are taking to address the risk of slavery in our supply chain. Methods we are taking to address and mitigate the issues identified are as follows:
Carrying out further supply chain workforce engagement in support of our 2020 Foundation Living Wage commitment, ensuring cases of underpayment are rectified and the reducing possibility of future cases.
Promoting our whistleblowing hotline to partner organisations and at our destinations and construction sites, giving workers a vehicle to raise concerns about modern slavery related issues.
Continuing a dialogue with partners based on the tender and contract reporting requirements which support our Sustainability Charter.

To follow up from these surveys and dialogue with our delivery partners we will carry out further due diligence in support of our 2020 Foundation Living Wage commitment, ensuring cases of underpayment are rectified and reducing the possibility of future cases. We will also continue our dialogue with partners in support our Sustainability Charter ensuring good responses to our tender requirements and ongoing good practice against our contract reporting requirements.
Asset specific auditing
Our combined environmental and energy management system is accredited to ISO 14001 and 50001 and covers 100% of our 72 managed sites. This covers all operations, including all activity that is outsourced to our service partners such as facilities management and building maintenance. All operations including those that are outsourced are audited by Lloyds Register on an annual basis and no major non-conformities have been identified for 2018/19.
100% of our managed sites are covered by our OHSAS 18001 health and safety management system, which is externally certified. Internal auditing is also carried out biannually for contractors and service partners for all sites through a Property Health Check.  In addition we regularly audit development contractors, dependant on size and risk of project, with the aid of our Development Team for Client Monitoring purposes.
Tackling modern slavery
Slavery, forced labour and human trafficking has no place in a modern society, in our organisation or in our supply chain. We're committed to zero tolerance, and we're prepared to stop trading with partners and suppliers who won't work with us to deliver on our policies. We're also committed to working closely with our partners to seek and tackle Modern Slavery in our shared supply chains. To provide a basic level of support for our position, we have a combination of policies, processes and guidance in place.
In 2017 we carried out a modern slavery and trafficking risk assessment across all our activities. The risk assessment showed the risks of slavery or human trafficking in the recruitment and engagement of our employees to be low.
Read our full Slavery & Human Trafficking Statement here.