Our commitment: Ensure our buildings are designed and managed to maximise wellbeing and productivity.
Progress: Staff response to our new head office at 100 Victoria Street puts us in the top 5% of 1,900 organisations surveyed worldwide by the Leesman Index for workplace wellbeing and productivity.
All kinds of people visit our spaces – from office workers and clients to shoppers and retail staff, from local residents to tourists. We want all of them to have a great experience.
That's why we've committed to making sure our buildings are designed and managed to maximise wellbeing and productivity. This means making sure there's plenty of natural light and fresh air, and avoiding construction materials and cleaning products that contain harmful chemicals. But it also means designing extraordinary spaces where people can be happy: offices that attract, support and inspire the very best talent, and shopping and leisure developments that draw visitors from miles around. To help us achieve this, we've set new metrics to:
Assess and design optimum air quality, daylight, lighting and noise factors.
Design and construct new developments for future WELL certification, a benchmarking scheme which recognises buildings that maximise the positive effects of health and wellbeing measures.
Landsec's continued support of the BID and work towards promoting and improving local air quality has great benefits to the local environment and population. Their transparent and collaborative approach with occupiers and supply partners helps push this agenda forward."

Chief Executive, Victoria Business Improvement District (BID)
We have conducted a trial of WELL certification on the fit-out of our new headquarters at 80-100 Victoria Street to learn more about the process. This will enable us to help our customers deliver WELL projects for their employees in the future.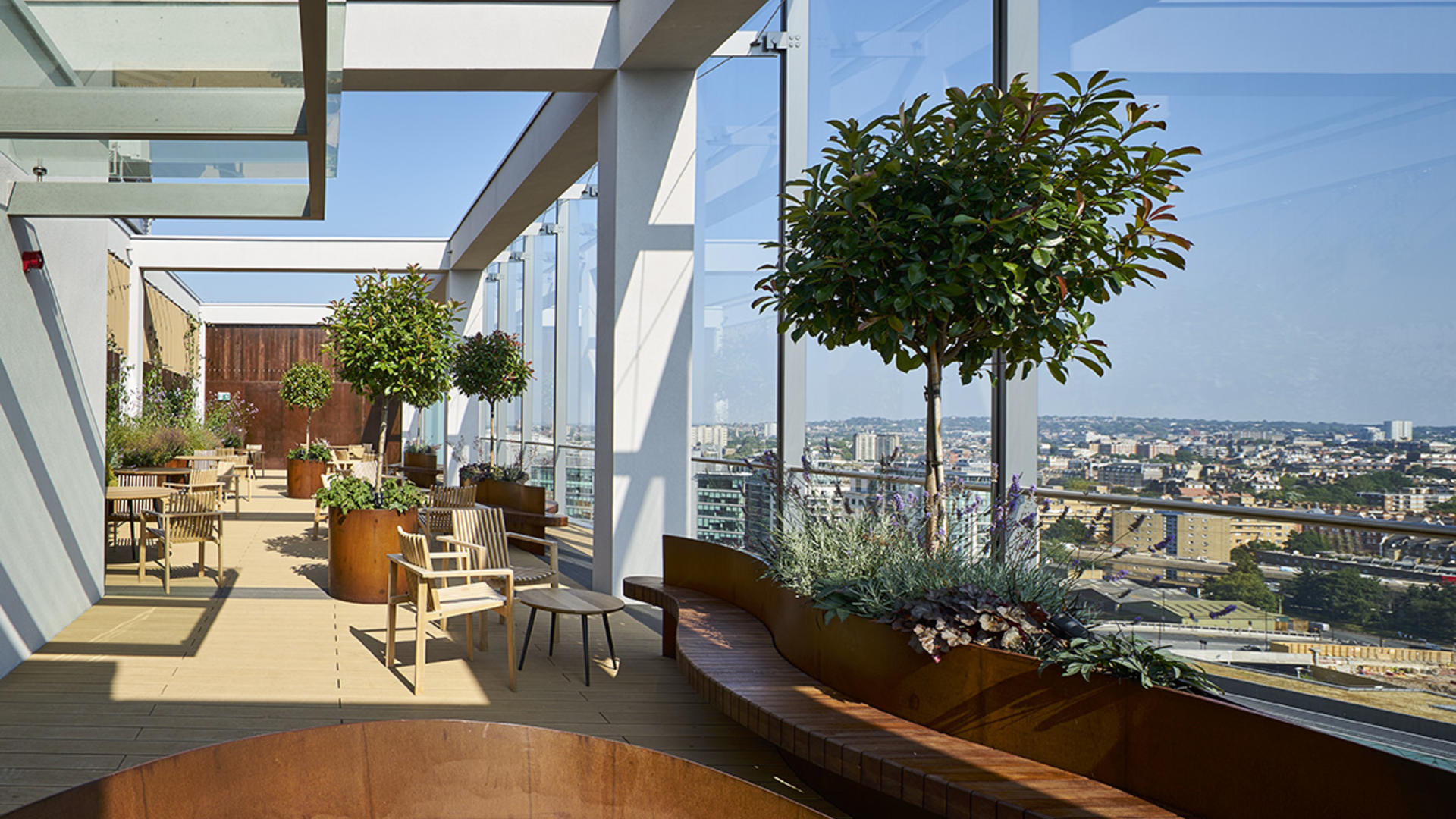 Eastbourne Terrace: a natural environment
When we redesigned our 20 Eastbourne Terrace office building in London's W2 we wanted the space to be like
a boutique hotel. We created a calm atmosphere by using floor-to-ceiling windows that increase levels of natural light, and by installing LED lighting that works according to natural rhythms. We also created spaces where people can socialise: a café area and communal business lounge, and a planted roof terrace with incredible views across the Capital. The feature staircase not only looks spectacular, it also encourages people to walk rather than use the lifts.