We're committed to designing and managing our assets to enhance our customers' physical and mental wellbeing, and to support their productivity.
With staff costs typically accounting for about 90% of a company's overall operating costs, we know that investing in features that improve health and productivity of employees makes good business sense. Creating workspaces that positively influence our customers' physical and mental wellbeing remains a priority.
What we've achieved 
Our assets should be great places to work and visit. For an office, this means designing spaces to encourage physical and mental wellbeing, whether it's through providing exercise space, places for quiet relaxation or high-quality cycle facilities. Where we build offices, this will be specified to meet health and wellbeing criteria under BREEAM and Ska rating tools. We also need to ensure that shell and core office construction specifications allow our customers to achieve WELL certification.
The WELL Building Standard is a performance-based certification scheme developed to put occupant health at the centre of building design. Our own headquarters at Victoria Street are certified to the WELL Building Standard; and we've started the process to recertify: as a performance-based certificate, we're reviewing the quality of the space every three years.
In retail, surveys tell us the interior environment is one of the most important factors in why our customers choose to visit. Creating the right conditions with the right mix of spaces is essential for creating an exciting and welcoming experience. We'll need to focus on lighting, indoor air quality, thermal comfort and acoustics, creating the right conditions for comfort. Designing for wellbeing is also about creating a great place to work, as well as to visit. This means designing comfortable space and amenities for retail staff as well as shoppers.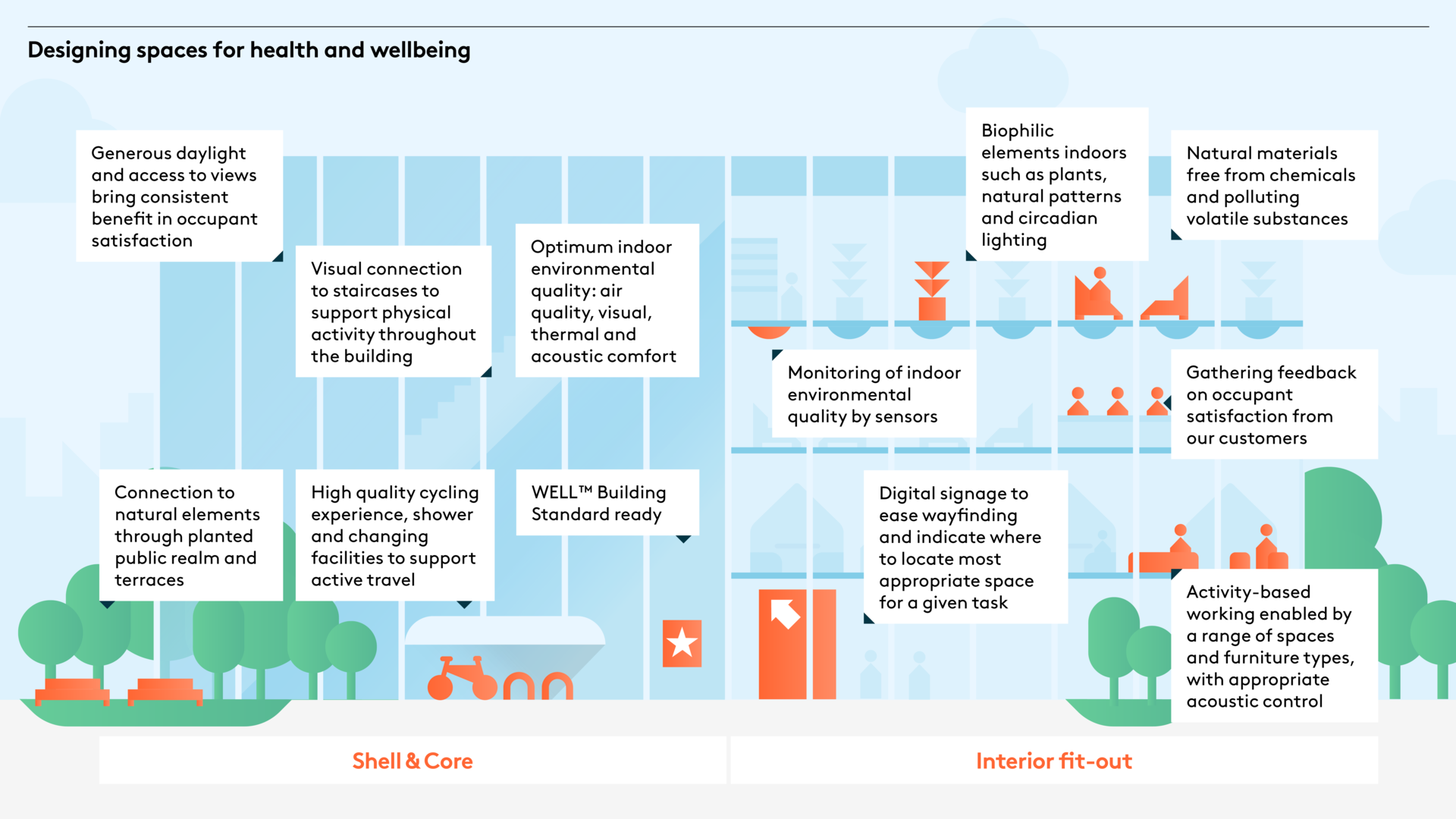 Our 100 Victoria Street workplace
Our award-winning workplace is designed for activity-based working and taught us the importance of designing for wellbeing and the effect it has on occupiers. We curated the physical space, workplace services and employee benefits to remove the barriers to an active, healthy and productive working day.
Promoting healthy lifestyles
Our employee benefits promote healthy lifestyles and include discounted gym membership, on-site yoga classes, free breakfasts and healthy snacks throughout the day
Our employees can chat with a GP through a new healthcare app, and we've trained mental health first aiders throughout the workplace
The workplace has an LED circadian lighting system which matches external light levels, and white noise machines to create a sense of privacy
The way we ventilate and clean our space is tightly controlled to keep the air free from chemicals.
Supporting activity-based working
Our new ways of working have increased productivity by giving our employees the tools and the spaces to do their job in the most appropriate way for the task at hand.
Our workplace has over 700 places to work from sit-stand and treadmill desks to quiet working booths and library spaces.
Delivering healthy spaces for our customers 
Where we provide HQ space for our customers, we make sure the quality of our base-build designs enables them to achieve certification to the WELL Building Standard for their own operations, just as we've done at 80 Victoria Street. Taking learnings from our own workplace with us, we actively design our future assets to support health, wellbeing and productivity for their occupiers and communities.
We're embedding occupant health and wellbeing in the very early design of our developments where we include appropriate features from the WELL Standard. The interior design at Nova East, for instance, revolves around the use of a palette of natural materials such as locally-sourced timber, recycled porcelain tiles and cork.
Lucent will also feature a planted winter garden and atrium, bringing daylight and natural elements deep within the building. In addition to these tangible features we're also delivering less visible benefits critical to a healthy building including clean air in abundant volumes, filtered water, non-toxic materials and high-quality lighting.
To help us to roll out our learning from our workplace, we've set new metrics to assess and design optimum air quality, daylight, lighting and noise factors, and to design and construct new developments for future WELL certification.