Our commitment: Carry out embodied carbon analysis to inform the selection and procurement of building materials to reduce environmental impacts.
Progress: Embodied carbon assessments progressing on all major new developments. Westgate Oxford has exceeded its ultra-low carbon target.
Embodied carbon emissions are those that are created in constructing our properties – for example, emissions created in the manufacture of building materials. Reducing them is tough, not least because it means influencing partners across our supply chain. But these emissions make up a huge part of our overall carbon footprint. So, if we get this right, we can make a massive difference.
What we've achieved
To address embodied carbon at
a fundamental level we need to work
in a new way across the design and construction stages, thinking about the emissions of an asset over its entire lifecycle. Our experience of working across different stages – buying, developing, managing and selling – puts us in a great position to do this.
We're continuing with our existing target to reduce our embodied carbon intensity by 15%, and we've also set new metrics, such as buying responsibly sourced materials – like steel, with a lower carbon footprint. These will help make our work in minimising embodied carbon emissions 'business as usual' across our portfolio.
With six months left we have already reduced the carbon impact of Westgate by over 30,000 tonnes, with zero cost to the project."

Project Director, Westgate Oxford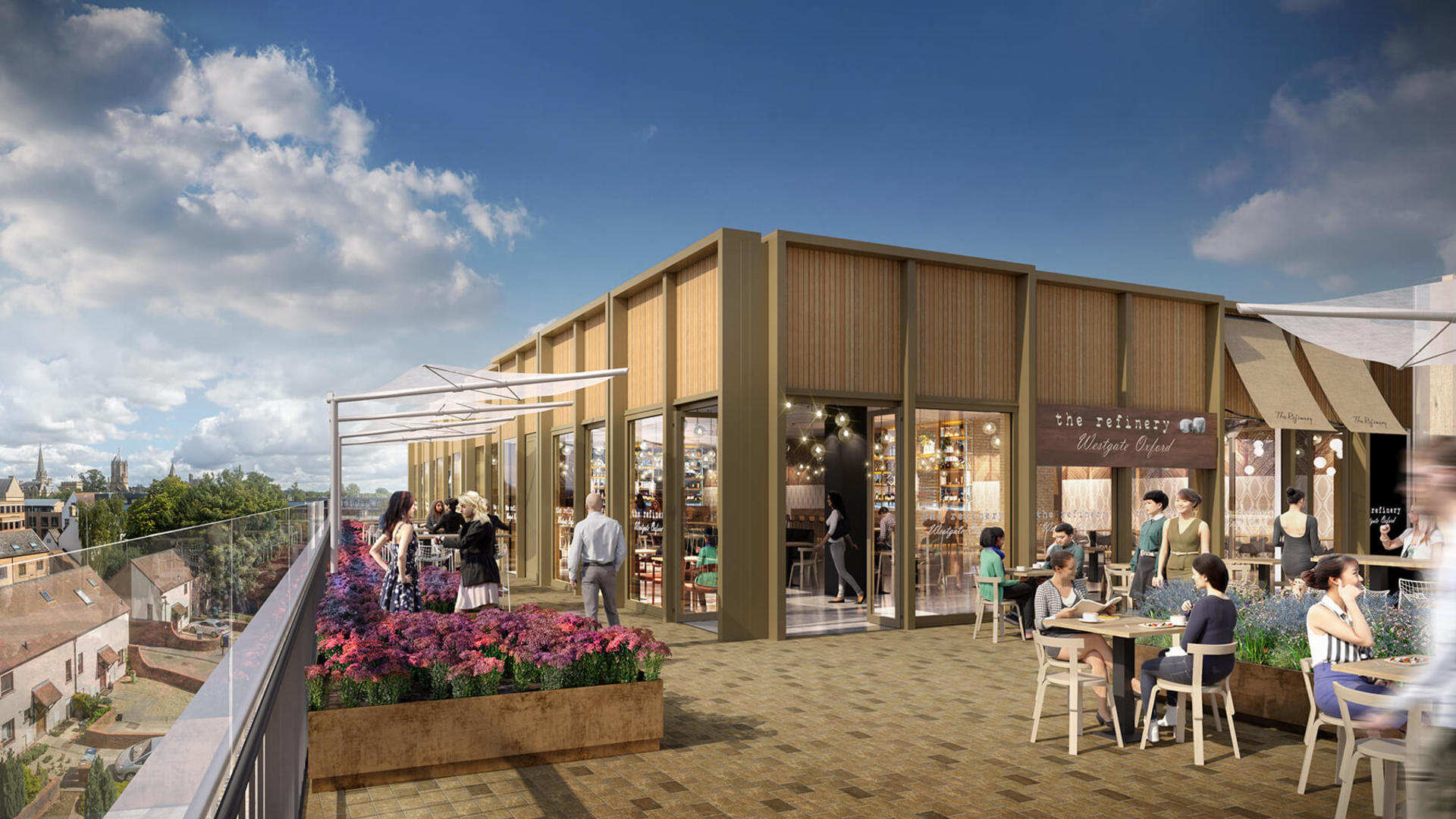 Westgate Oxford: exceeding our ultra-low target
When we planned our Westgate shopping centre, Oxford City Council required us to reduce embodied carbon by 25,777 tonnes. We're delighted to report that we've exceeded this target, avoiding over 30,000 tonnes of embodied carbon emissions. These are the emissions that would have been created if we'd used an earlier design, but which we'll avoid now that we've used a more informed approach. This means the building has avoided as many emissions as it will expect to generate over the next 30 years.
To hit our target, we used a high volume of recycled materials. For instance, we bought local recycled aggregate and used a type of concrete with a high recycled content. We also set up a disposal site close to the construction site, which meant we didn't have to transport waste far. By the time the project is complete, total emission avoidance should reach 39,000 tonnes. Given that the total embodied carbon emissions across our business amounted to 126,000 tonnes last year, this is an important step forward and a powerful example for future developments to learn from.