Sustainability is a priority for our leadership team, and their commitment has galvanised support across our business.
The Board is responsible for the oversight of our approach to sustainability and of climate-related risks and opportunities impacting our business. Our CEO, Mark Allan, is our Board 'Sustainability Executive' and has overall responsibility.
This year, we have strengthened our governance, disbanding our Sustainability Committee and making our Executive Leadership Team accountable for setting the strategy, and ensuring we have the resources and budget for it.
We are establishing a Sustainability Forum, a senior management group, responsible for executing the strategy and delivering programmes of work needed to meet our sustainability targets.
Our Sustainability Team
Our sustainability team is responsible for recommending the strategic direction for sustainability, measuring and reporting progress; delivering group-wide programmes to address issues that matter most. The team also provide expert advice and support on how to integrate ESG considerations into the way we operate and design and develop our buildings.
We monitor and report progress on our framework every year through a Build well, Live well, Act well scorecard.
Executing our strategy

Under our Build well, Live well, Act well pillars, we have a suite of targets to demonstrate the actions we are taking to address each of our material issues. These targets will evolve over time as we continue to develop our approach.
Our framework is delivered via business-wide, portfolio and asset level actions – helping us embed sustainability further throughout the business. Our Build well, Live well, Act well framework energises all colleagues to focus our actions on the issues where we can have the biggest impact, ensuring we all have clear understanding of the role we play in supporting our commitments and targets.
See our full ESG governance model below: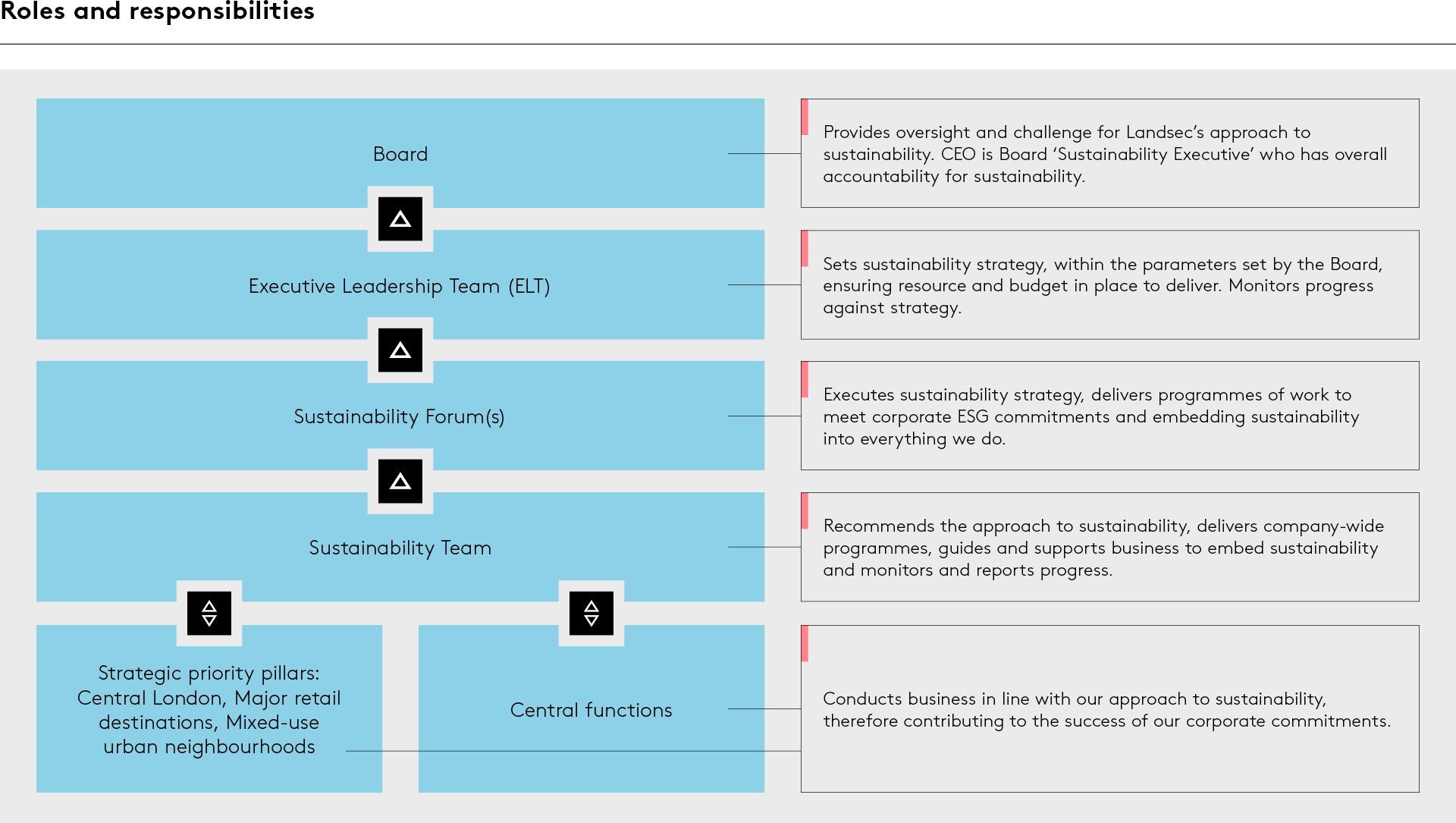 Sustainability Assurance
Our sustainability assurance is conducted by EY, who are also our financial auditors. This is part of our journey to embed sustainability across the business and enhance the integrity, quality and usefulness of the information we provide. This assurance was conducted  in accordance with the International Standard for Assurance Engagements Other Than Audits or Reviews of Historical Financial Information ('ISAE 3000'), and the terms of reference for this engagement as agreed with the Group on 1st March 2021. The EY statement discusses this assurance in more detail.
Read our 2022 Assurance Statement [PDF]