Sustainability is a priority for our leadership team, and their commitment has galvanised support across our business. Our Chief Executive takes overall responsibility, with the wider Board receiving an annual update.
Our Sustainability Committee
Ongoing oversight is carried out by
 our Sustainability Committee, which
 is chaired by the Chief Executive and attended by our Director of Corporate Affairs and Sustainability and Group HR Director – all members of our Executive Committee – together with our Head of Sustainability, Head of Engineering & Design and senior representation from the London and Retail businesses. The Committee meets quarterly and is the senior forum for determining our sustainability strategy and reviewing performance.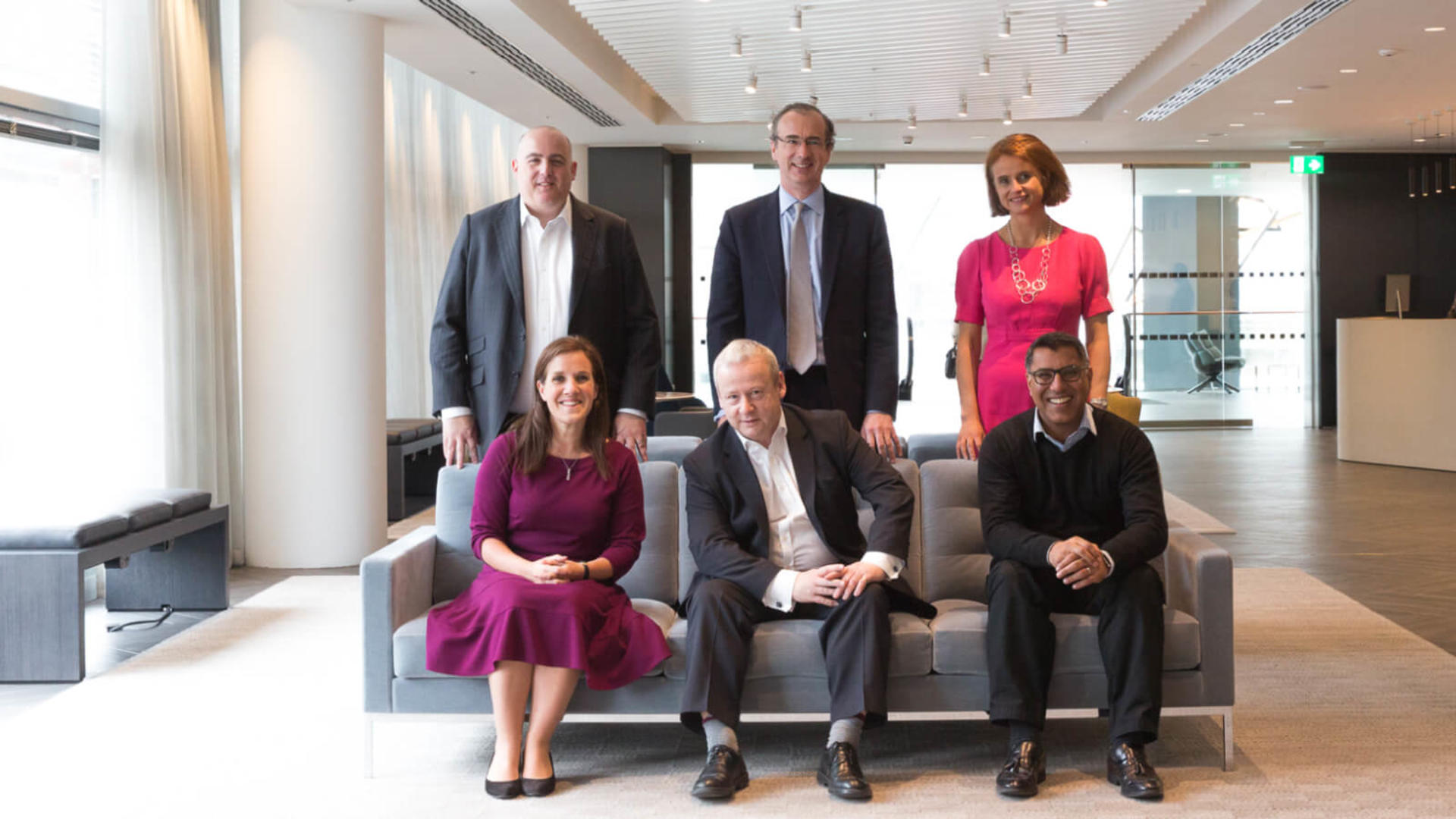 Our Sustainability Working Group
The Sustainability Committee is supported by the Sustainability Working Group. This meets quarterly and is
the delivery mechanism for making
sure sustainability is considered and integrated throughout the business. The Working Group includes representatives from across the Retail and London businesses and from corporate functions. It looks at all aspects of our business, from development and project management to operations, insurance, engineering, HR, health and safety, and marketing. The group is chaired by the Head of Sustainability.
Our Sustainability Team
The Working Group is supported by the Sustainability Team. This is an integrated team that sits at Group level and supports the entire business with all aspects of sustainability. The team's remit includes community programmes, charity partnerships, volunteering, environmental management and energy and waste management. The team is led by the Head of Sustainability.
Group KPIs
Every year the business sets itself a series of annual key performance indicators (KPIs). These are linked to executive and senior management remuneration. Sustainability issues inform all of our business KPIs in some way but we also have a number of indicators specific to sustainability. For this coming year, we have KPIs on our Community Employment Programme and on energy management.
Policies
We've created a number of procedures and policies to make sure we act responsibly in everything we do. All of the following policies are included within our new starter packs for employees:
Assurance statement
Our sustainability assurance is conducted by EY, who are also our financial auditors. This is part of our journey to embed sustainability across the business and enhance the integrity, quality and usefulness of the information we provide. This assurance was planned and performed in accordance with ISAE300 (Revised) and to meet the requirements of a Type 2 assurance engagement as defined by AA1000AS (2008). The EY statement discusses this assurance in more detail.
Assurance statement 2017 [PDF]
How we work
To work effectively, we start by setting the right priorities. Then we work closely with others, from communities to construction partners, from energy suppliers to occupiers. We also make sure our own team understands the importance of sustainability and how to achieve it. Finally, we assess our actions to make sure we're making a lasting and positive impact.
Pinpointing material issues
In 2016, Jones Lang LaSalle (JLL) carried out a detailed materiality review to help us understand the most material sustainability issues affecting our stakeholders and our business. These issues were plotted on a matrix, helping us see which are the most pressing. Our matrix shows that our most material issues include energy and carbon, as well as sustainable building design. The review was undertaken in line with best practice methodologies supported by the Global Reporting Initiative (GRI) and AcccountAbility, and involved consultations with customers, investors, supply chain partners, community organisations and employees.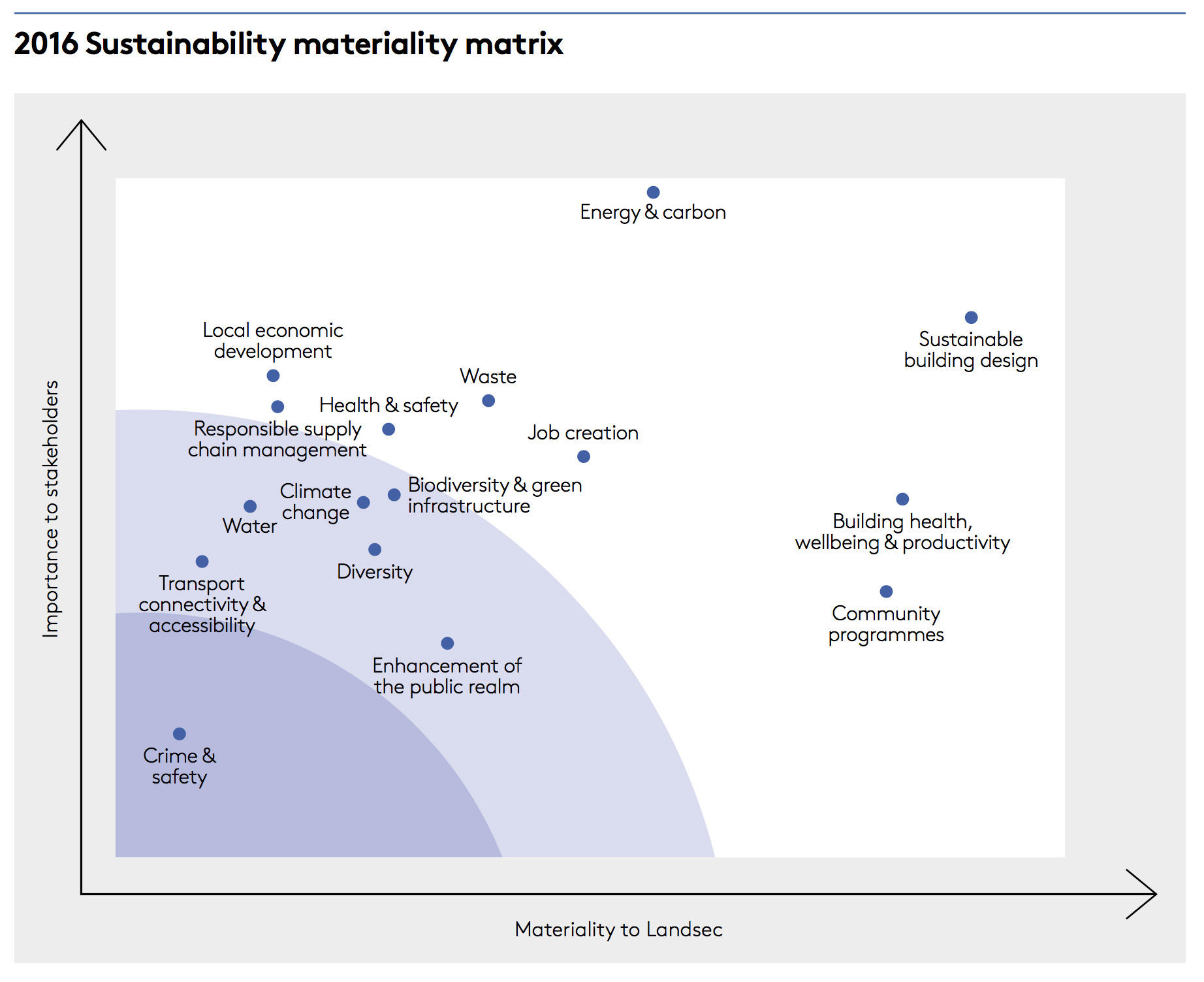 Working with stakeholders
We work closely with four main kinds of stakeholder:
Customers: People who occupy or visit our properties, like office workers, retailers or shoppers. We carry out everything from surveys to face-to-face meetings to make sure they're getting the most from our spaces
Communities: Those who live in the areas we work, such as local residents and businesses, schools and charities. We create bespoke engagement plans to help us address our neighbours' hopes and concerns, and we make sure our contractors minimise disruption
Partners: Everyone from joint-venture partners to trade bodies. We collaborate in ways that suit them – for instance, we support contractors by holding regular group sessions, and we work with local government by taking part in key boards and committees
Employees: We regularly survey our team, and we hold an all-company conference every other year. We also run sustainability-related discussions to help people understand how their work is shaping communities
Working with our supply partners
The impact we make doesn't just come from our own team. It also comes from the partners we work with up and down our supply chain, such as construction companies and energy suppliers. Together, we work at a significant scale – so our impact is substantial. To make sure sustainability really does run through all we do, we need to work closely with our supply partners. Our current systems and governance are relatively well developed and robust: our sustainability requirements for suppliers focus on things like sourcing materials and managing waste responsibly, and making sure staff are paid fairly and not exploited in any way. But we want to do more. That's why we've set some new priorities.
Training our people
Sustainability Matters is a company-wide training programme designed to increase awareness and knowledge of sustainability. It includes an online module that we ask all employees to complete, covering global issues such as climate change. It also includes face-to-face training modules that help people to embed sustainability in their day-to-day thinking. The modules cover topics from investment to operations, showing how sustainability can improve all of our working practices.