Gender and ethnicity pay gap
*2022 report coming soon*
Here at Landsec we strongly value diversity and aim to be an inclusive employer. We strive to attract, retain and promote employees from all backgrounds, regardless of their gender, race, religion, age or sexuality.
Our 2021 approach to reporting
We're proud that we are once again leading the way by going beyond our statutory obligations to report our gender pay gap: we're also reporting on the ethnicity pay gap and looking at the horizontal pay gaps too. This is another milestone on our journey to become a leading inclusive organisation.
In this year's report, we bring you up to date with how we're doing. We celebrate where we're doing well. But we're also realistic about what more needs to be done, and we lay out the practical, tangible steps we're taking to make sure we improve where we need to.
You can read more about this analysis in our 2021 report 
The headline numbers
Gender pay gap
Our median pay gap narrowed from 34.3% in 2020 to 29.3% in 2021 and our mean pay gap narrowed from 37.7% to 36.6% over the same period.
Ethnicity pay gap 
Our median ethnicity pay gap is 32% and our mean ethnicity pay gap is 33%.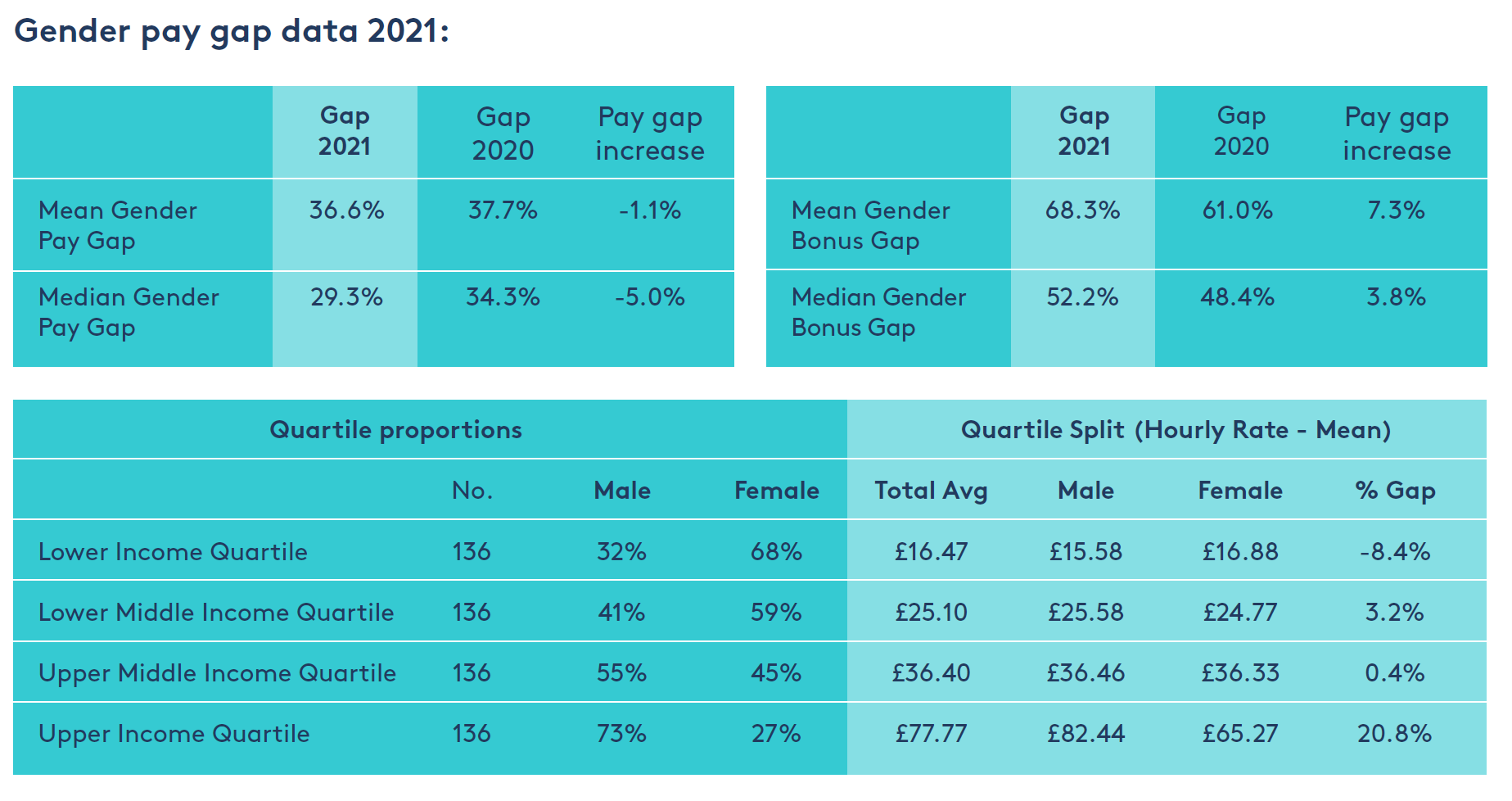 We're sure that our pay gap isn't due to an equal pay issue. We take equal pay seriously and use a recognised job evaluation approach to ensure that our employees are paid fairly. Our independent equal pay audit, carried out by Eversheds LLP in 2018, which we repeated in 2020 did not reveal any equal pay issues. But we're not complacent and will continue to keep checking in regularly to make sure everyone is treated fairly.
The main reason for pay gaps across Landsec is still an imbalance of male and female and white and ethnic minority colleagues.
We've made progress here, but there are still fewer women and ethnic minority colleagues in senior roles than men and white employees. At the same time, there's also a higher proportion of women relative to men at lower levels.
Addressing this disparity in representation will take time, and we're working towards achieving our gender and ethnic minority targets. This work will have an impact on our pay gaps in future years.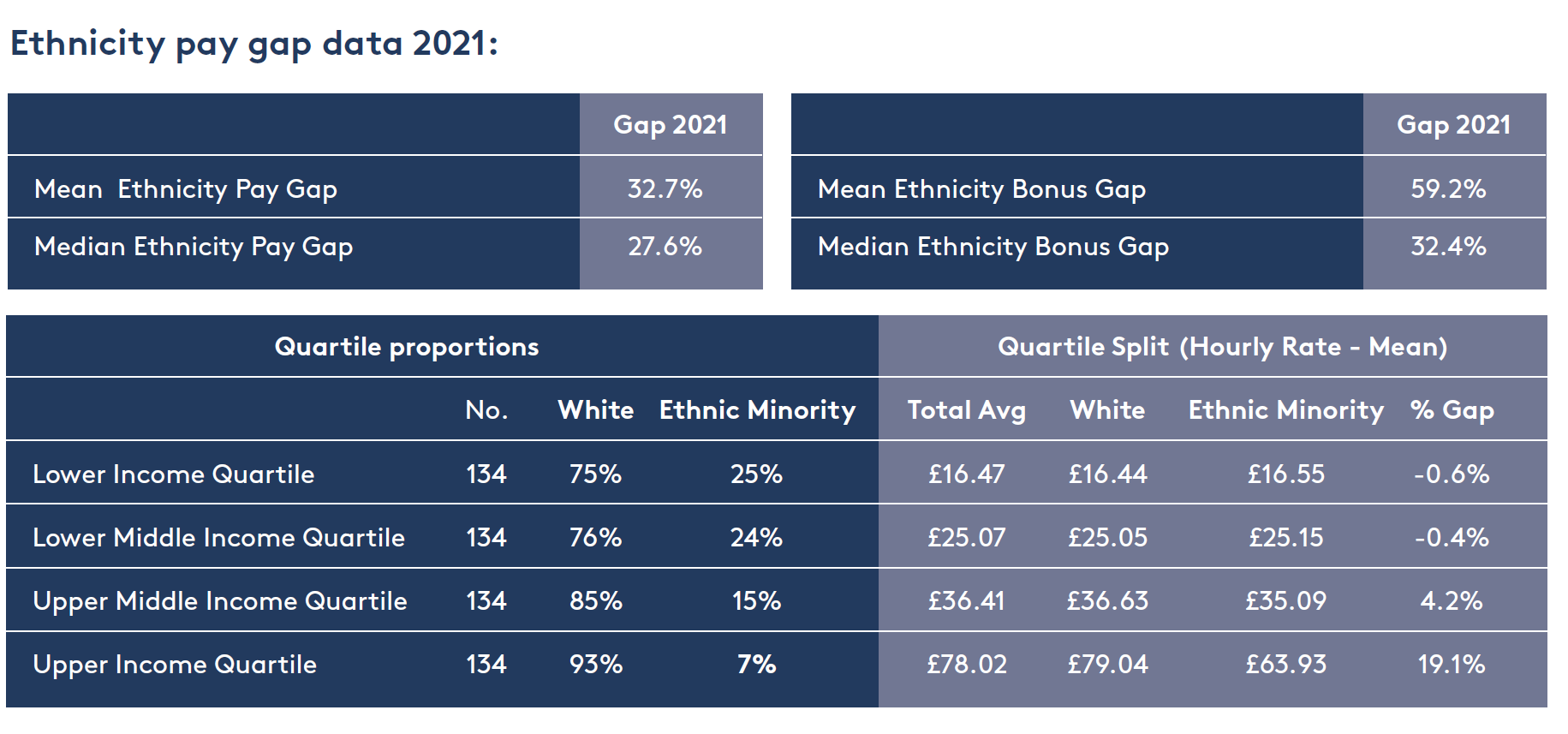 Our ethnicity pay gap is calculated as the difference between the average earnings received by ethnic minority employees compared to white employees. Our ethnicity pay gap tells us that we have an ethnic imbalance - having more ethnic minorities in junior roles and fewer ethnic minorities in senior roles relative to white employees.

Looking at our quartile proportions we see that ethnic minority employees are overrepresented in the two lowest income quartiles, which are 24% and 25% respectively. To make meaningful progress on our ethnicity pay gap we need to increase the proportions of ethnic minority employees in the two higher income quartiles. This is why we are committed to driving change through our signature actions as part of our D&I strategy.
 
Long term commitments
We have a long term commitment to diversity and inclusion and gender balance. It's why we've set the challenging targets that we're working to hit by 2025. Think of the targets we set for gender balance in the context of our wider programme of measures to make our organisation more diverse, more welcoming and ultimately more successful for our employees – as well as for our customers, communities and partners.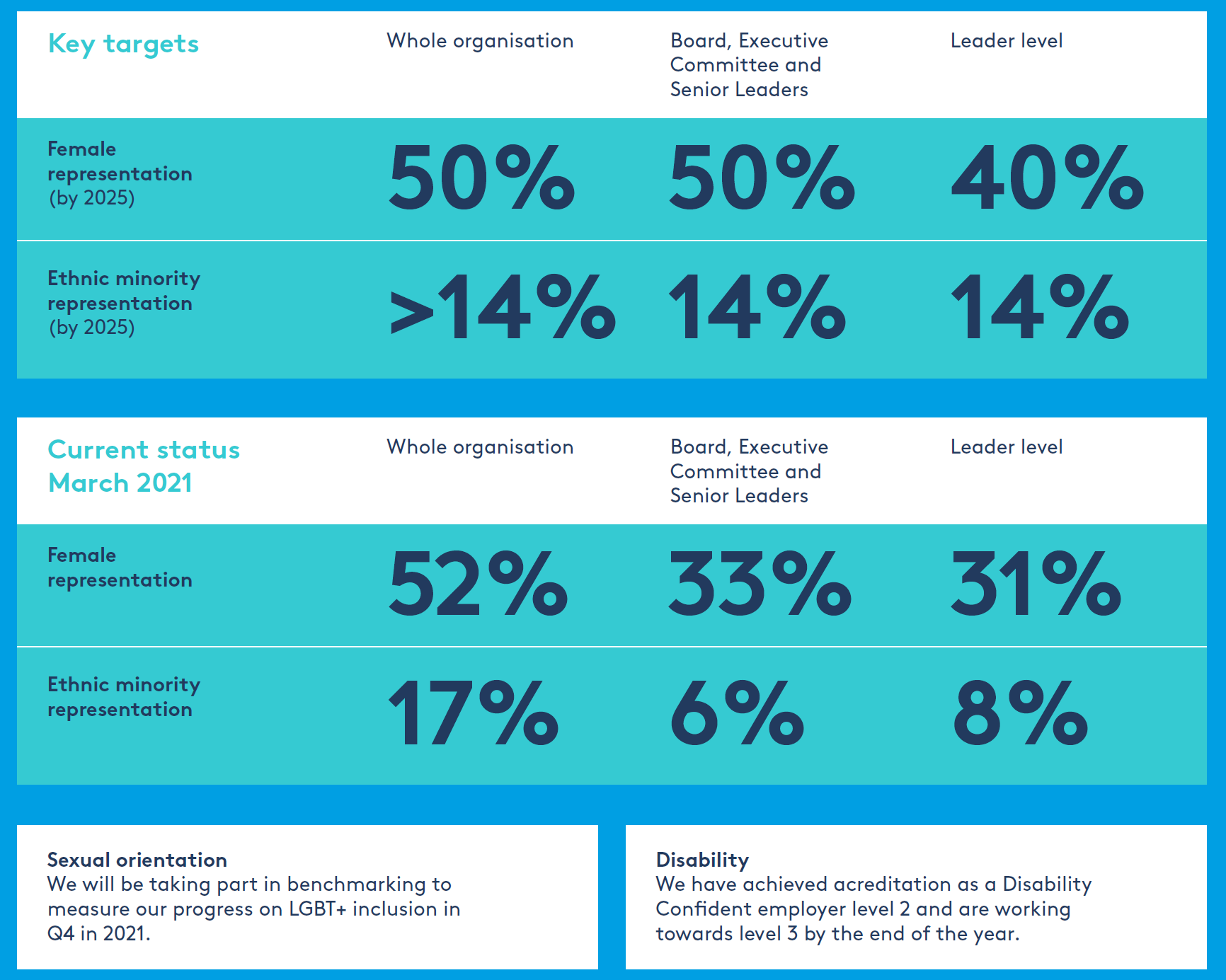 Addressing our gender and ethnicity pay gap is vitally important to opening up opportunities to more people than ever before. And unlocking their potential has never been more important – for our business, for our industry and for our communities."

MD, People & Corporate Services
Taking action
To make more progress towards our targets, we've got six signature actions that will help us deliver against our D&I strategy and vision:
Positive action
Attracting diverse talent
Agile working
Retaining and developing our people
Supporting working parents 
Creating opportunities