For the benefit of customers, society and our investors, addressing carbon emissions and increasing energy efficiency is the sensible thing to do.
Throughout the past decade, Landsec has established itself as a global sustainability leader in its sector. We've set and achieved ambitious carbon targets, invested in renewable energy, and reduced energy use in our buildings. However, in 2019, the world's carbon emissions continued to increase, and so the coming decade is critical for the world's response to climate change, and the need to limit the worst of its impacts.  
Reducing our emissions
In 2016 we became the first commercial real estate company in the world to have its carbon emission target approved by the Science Based Targets Initiative, linking our targets with the science of climate change. This year we achieved our 2030 target 11 years early, reducing our carbon intensity by 48% since 2013/14. 
In line with our aim to lead our sector, in 2019 we became the first UK REIT to increase the ambition level of our science-based carbon reduction target, aligning it to a 1.5oC scenario. Our approved science-based target (SBT) will see us reduce our absolute carbon emissions by 70% from a 2013/14 baseline over the next eleven years. This year we reduced our carbon emissions by 42% in line with the updated target.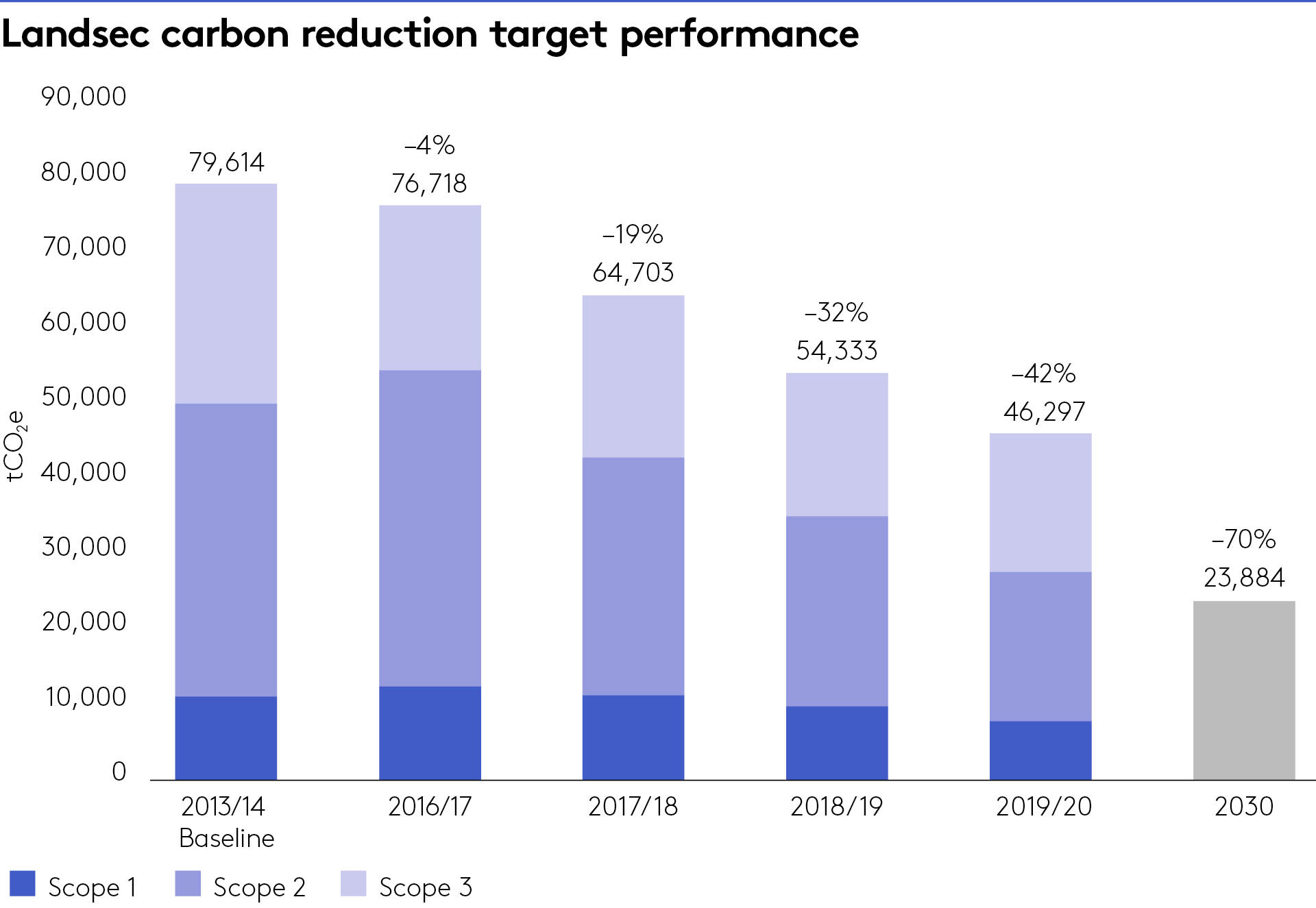 Tackling our full carbon footprint
Although we're making good progress on reducing our own emissions, we recognise that we also have an important role to play in influencing emission reduction of our supply chain and customers.
Every year we report on the entire range of measurable carbon emissions associated with our business. These include the ones we control, like when we use energy to heat and power our properties, as well as emissions indirectly associated with our business, like the embodied carbon emissions produced by construction companies and suppliers when they work with us to develop a property. Our full carbon footprint can be found here. 
Our net zero carbon strategy 
The independent Committee on Climate Change recommended, and Government accepted, that the UK should aim to be net zero carbon by 2050. It stated that this is technically feasible with known technologies, and those who can, should aim to be net zero carbon sooner than this. As a leader in our sector, we have committed to become a net zero carbon company by 2030.  It's an ambitious but credible strategy with clear actions to support the world to limit global warming to 1.5ºC. 
To become net zero carbon business we are taking the following 5 actions:

1. Reduce operational energy use
We're reducing our operational energy use in support of our updated science-based carbon reduction target, aligned with a 1.5°C scenario. A key way we can reduce carbon is by lowering the energy use of our assets, and this has the additional benefit of reducing our customers' energy costs. Find out more here
2. Invest in renewable energy
Since 2016, all the electricity we procure is REGO-backed renewable and we are looking to move our procurement towards direct purchasing from renewable projects through Power Purchase Agreements (PPAs). We aim to increase the amount of renewable electricity we generate on our sites. Our current on-site renewable electricity capacity is 1.5MW, halfway to our commitment of achieving 3MW. Find out more here
3. Use an internal shadow price of carbon 
To support our net zero ambitions, we calculate an internal shadow price of carbon, so we can consider the carbon cost as well as the financial cost when making investment decisions. We established our internal price of carbon by estimating how much we're spending on carbon reduction projects currently, and how much more we would need to achieve our 2030 goals. We balance this with figures reflecting the fact that making early design decisions with a low cost increase can have significant carbon-saving potential. 
4. Reduce construction impacts
 We're committed to continue reducing the carbon emissions associated with our construction activities. When developing a new building today, we include embodied carbon emissions from our supply chain in this commitment. 
We recognise that reducing the emissions arising from our construction activity including; extraction of natural resources, manufacturing, transport and construction is crucial. This is because they represent a significant footprint as these typically amount to about half of the total emissions associated with the building over its entire life. Importantly, retaining the existing structure or repositioning assets has the most impact when creating high-quality spaces at minimum carbon emissions. 

At Portland House, the embodied carbon intensity of our proposed repositioning is about a third of that of a new development, which means we're able to create a high-quality space with less carbon emissions. We set embodied carbon targets for all our major developments and assess them through a recognised methodology, to understand where to focus our efforts for maximum impact.
The first step is to simplify our designs to limit the cost of materials. Buying fewer materials is the best way to reduce carbon. Find out how we are doing this here
5. Offset remaining carbon 
As a last resort to achieve a net zero development, we offset the remaining carbon from our construction activities. We will also offset any remaining fossil fuel energy consumed across our portfolio by 2030. We aim to do this by funding projects that remove carbon from the atmosphere via procurement of carbon credits. By financing projects in developing areas around the world, these credits have a further social impact through job creation and the support of sustainable living in line with the United Nations (UN) Sustainable Development Goals. 
For more information please read our Net Zero Carbon Pathways document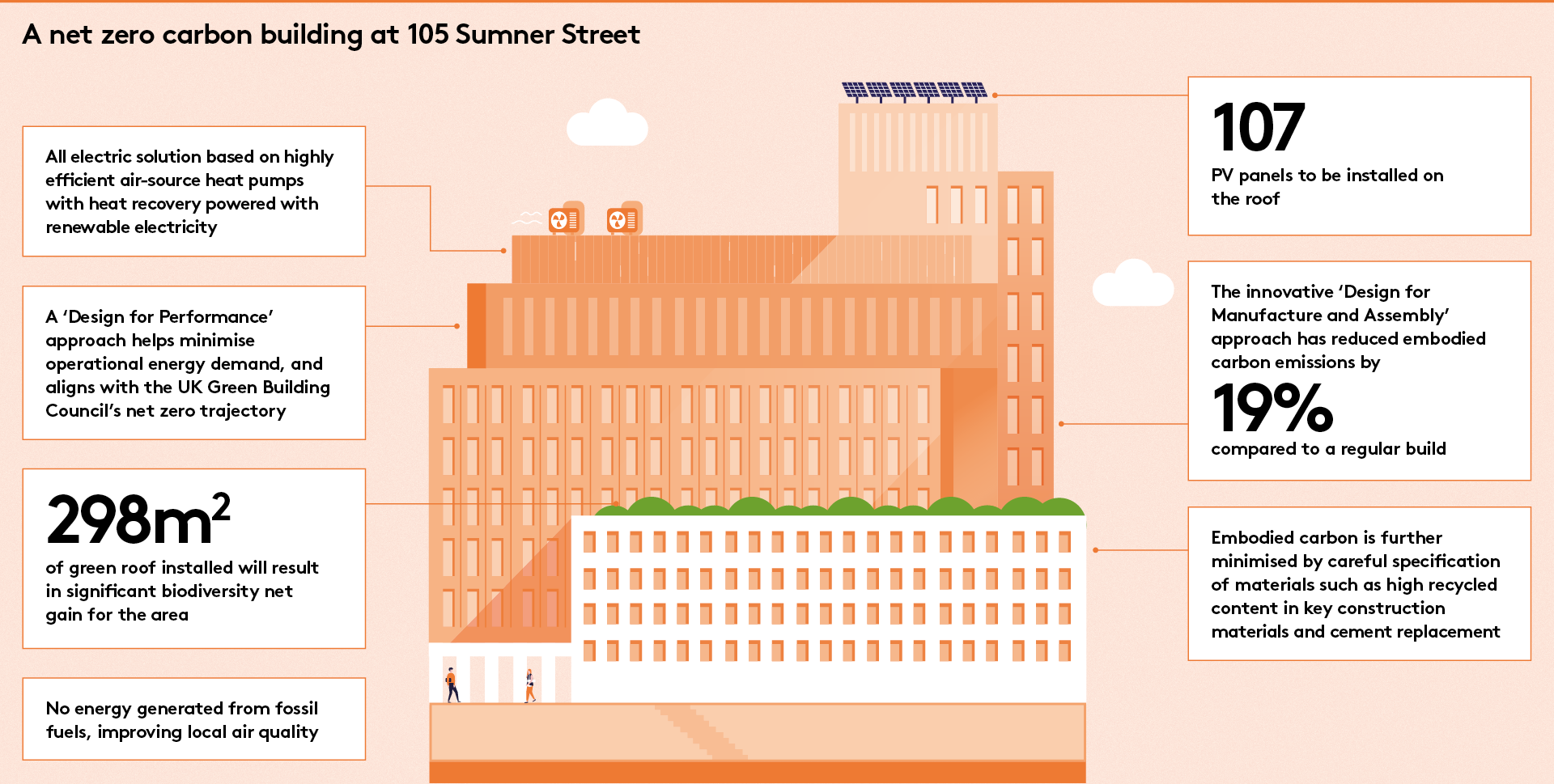 Landsec is showing great leadership within the global property industry, positioning itself to future-proof growth as the world transitions to a low-carbon economy"

Member of the Science Based Targets initiative steering committee, CDP