We're constantly looking for innovative ways to engage customers and consumers to reduce waste, helping to reduce our consumption of resources whilst reducing operational costs.
What we've achieved
We continue to divert all our operational waste from landfill, and have recycled 65% across our portfolio, performing below our target of 75% recycled and reused by 2020. Due to our diversified portfolio, our waste management performance varies significantly across our assets. We have achieved this target across our commercial office portfolio, outperforming it for the last two years, achieving 82% in 2020/21. In 2018/19, our shopping centres also outperformed our target, at 76.8%, leaving only the outsourced managed leisure and retail parks as the portfolio segments not achieving 75% recycled and reused. Since we set our waste target, we've seen a significant improvement in the accuracy of waste data. Using actual waste data rather than estimated data, and a better understanding of offsite Material Recovery Facility (MRF) outputs, have resulted in a minor decrease in the reported recycling rates, especially within the retail portfolio.
Finally, and most significantly, this year the recycling rate across our retail portfolio has decreased to 67% from 72% in 2019/20, as a direct consequence of Covid-19 restrictions. A reduction in recyclable materials produced by brand partners and F&B (such as packaging materials, cardboard and glass) and a change in operational procedures to minimise infection risk to operational staff, has had a direct impact
on the amount of waste collected as well as that recycled.
The 75% recycling target is still achievable, albeit challenging in the current climate. We are therefore extending our commitment for 75% recycling to 2030 to align with our expanded new construction waste commitments announced last year. We will support this by working with our employees and customer to reduce, re-use and recycle waste, running campaigns and incentives across the business, building upon our successes of recent similar campaigns.
Additionally, we are running an in-depth waste auditing exercise at the third-party managed retail and leisure portfolio on sites that produce a significant amount of waste but are not achieving our recycling target. We will use this information when retendering for the waste service in this portfolio. As part of our commitment to our community partners, we also donate any Surface Pros we no longer need to some of
the charities we support.
Circular economy Initiatives

Closed-loop glass recycling
 Glass is infinitely recyclable to its highest environmental value (that is, as glass) if it is segregated properly, so at Portland House we're working with our demolition contractors, Erith, to segregate it carefully. To date, we've removed just under 100 tonnes of glass from site, avoiding an estimated 29 tonnes of CO2. We anticipate recovering an estimated additional 200 tonnes of glass from the project as it progresses. The glass then goes on to a specialist contractor, eventually to be re-melted as float glass. This improves on the traditional approach of mixing it with other waste to be used as aggregate.
A second life for used raised-access floor tiles
Raised-access floor tiles are standard products in the real estate industry, of standard size and specification. They're also typically wasted, discarded during strip outs and demolition, only to be replaced by new tiles serving exactly the same function. This is costly and  environmentally wasteful, especially as the tiles will sit underneath a floor covering. Tiles can be salvaged, cleaned, re-tested and re-installed. We work with one of the UK's largest recycling companies for raised floors, developing a product where refurbished second-hand tiles can be painted with low-VOC paint, to ensure visual consistency on show floors. We created a prototype during the works at Dashwood this year, which proved acceptable to many leasing and technical partners. We estimate the recycled tiles are at least 50% less carbon intensive than new ones which can significantly contribute to further reduce the embodied carbon of new
developments.
Reducing single use plastic
In 2018 we launched our 'Refill Me' campaign to help tackle the issue of single-use plastics. The campaign allows guests at our centres to request a free refill of water, in their own bottles, from brand partners without an obligation to make a purchase. Not only does this encourage people to refill reusable bottles, but also provides an opportunity for our brand partners to engage with our guests on sustainability and demonstrate that they are a responsible company.
Brand partners who sign up display a refill me sticker in their shopfront with animated digital signage and digital logos available for centres to advertise the campaign to guests. We continue to support our customers in reducing single use plastic by partnering with Ape2o and installing two of their filtered water dispensers within the public area of our One New Change and New Street Square sites. The machines allow the public to refill their own water bottles with chilled and sparkling water.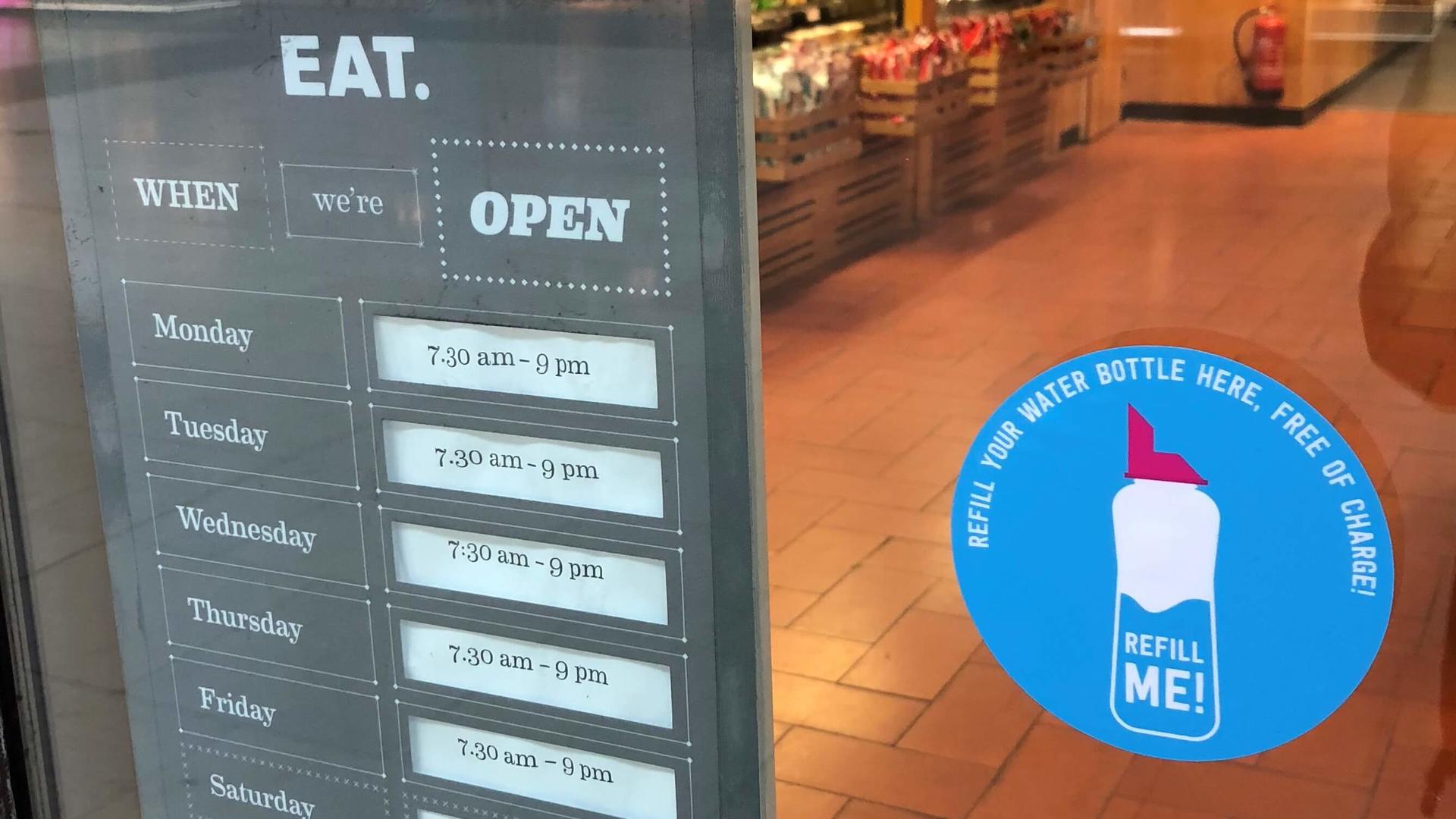 Reducing food waste
Three of our retail sites – including Westgate Oxford, – use eco food digesters, which use the process of aerobic digestion to break down up to one tonne of food waste a day into wastewater. This process not only ensures no food waste is taken to landfill, but it also contributes to a reduction in CO2 emissions by reducing the number of waste vehicles travelling to our centres.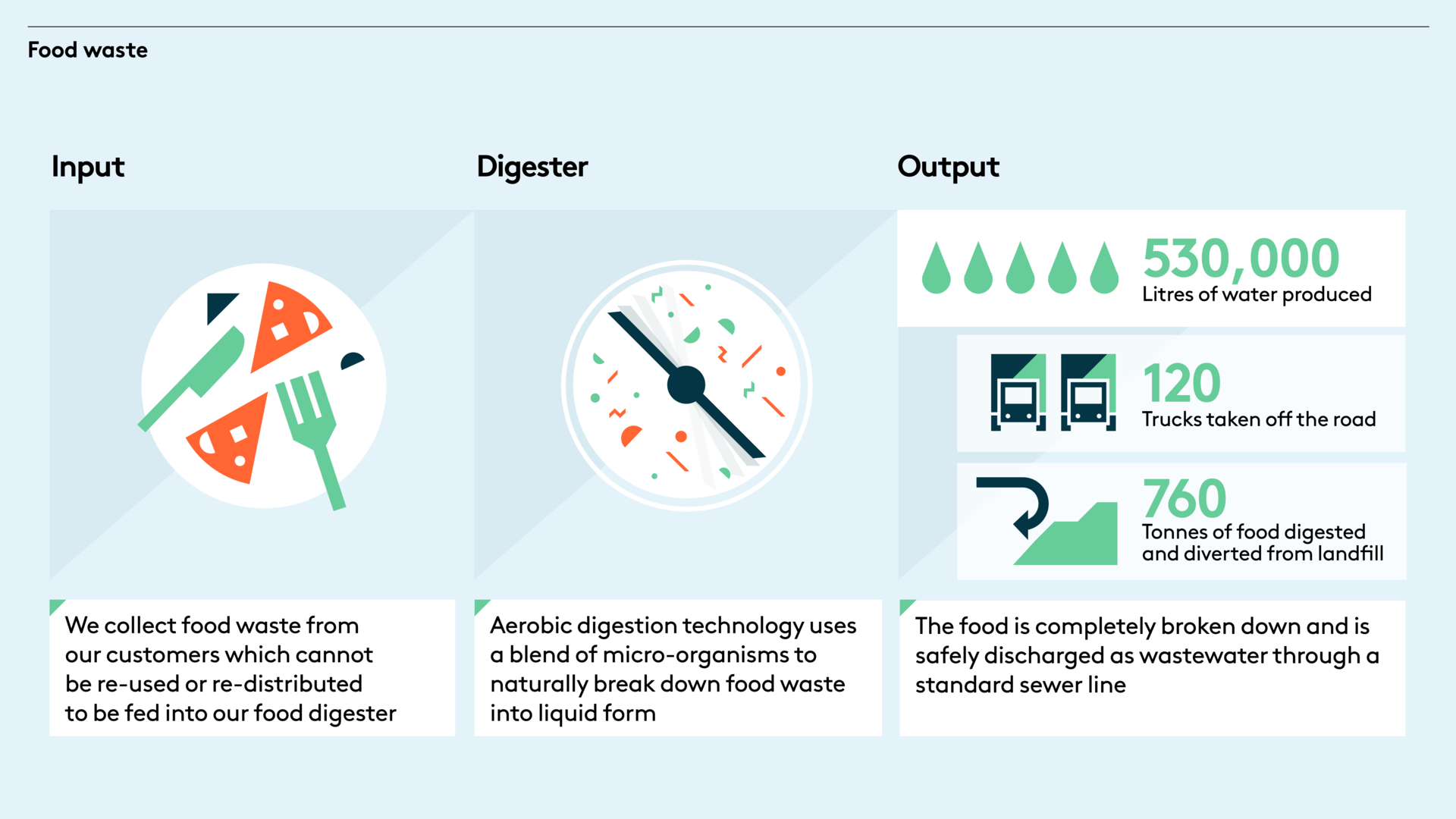 Tackling textile waste
Fashion and textile waste is an emerging and increasingly high-profile problem. We aim to show that action can be taken to protect the environment without placing retailers under financial strain. We're responding to calls from the government to place a levy on fashion items by mobilising an alternative plan focused on collaboration rather than taxation.
Our first response to the textiles issue was a trial scheme, 'spring clean, think green', launched in March 2019 at Westgate. During that time, we invited guests to drop-off used clothes and shoes for recycling, gave them information on the possibilities created by recycling and incentivised them through competitions. Following this trial, we're planning to roll out textile recycling to other destinations.