In 2015 we commissioned Jones Lang LaSalle (JLL) to conduct a detailed sustainability materiality review.
Materiality Matrix
The output was a clear materiality matrix that plots issues according to their importance to stakeholders and their materiality to us. The final matrix was based on the format recommended by GRI and AccountAbility, with appropriate weighting applied. The matrix shows that energy and carbon and sustainable building design are our most material issues.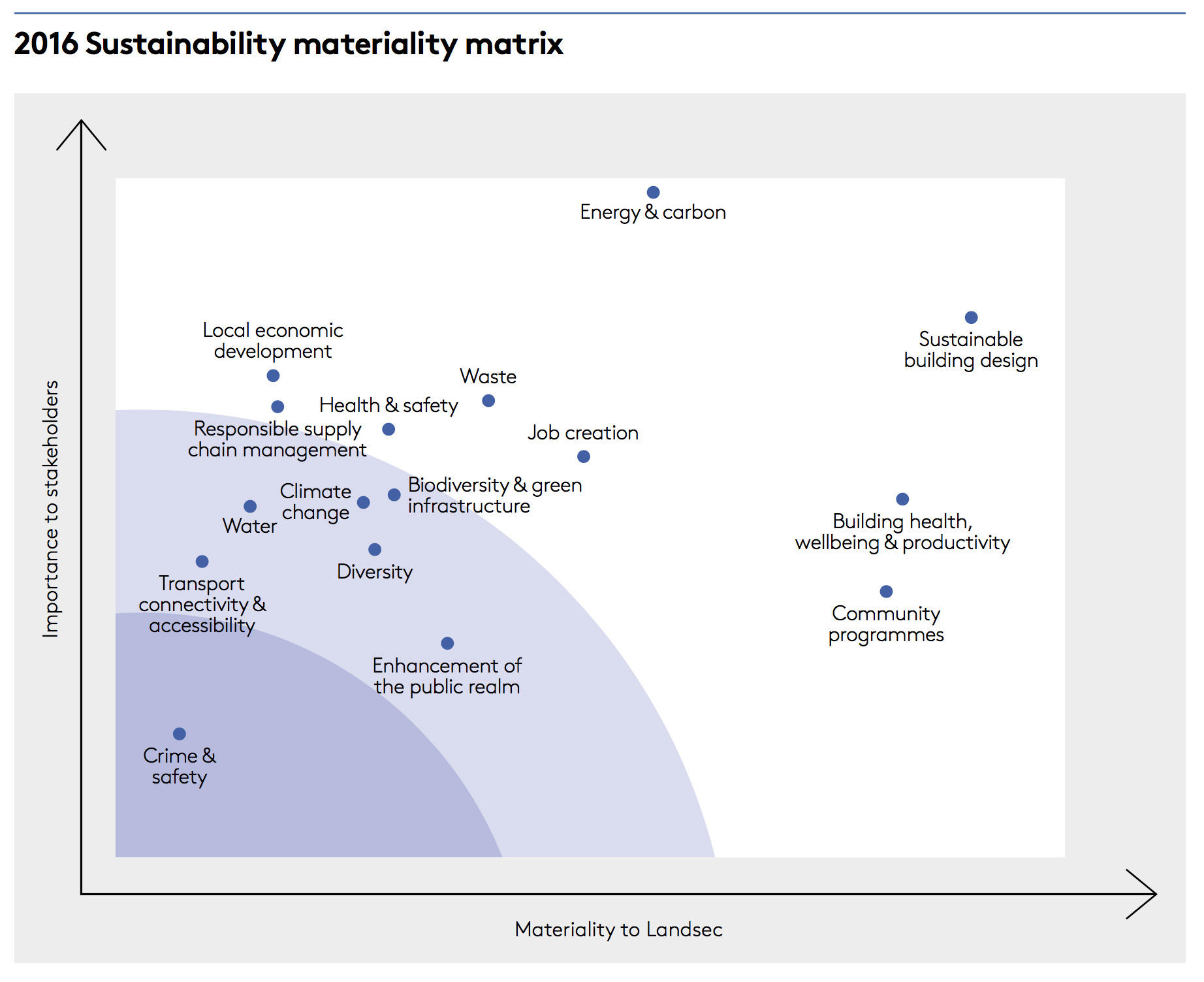 JLL has extensive experience of undertaking sustainability materiality reviews and strategy reviews for a range of leading property companies and investors over 15 years.
The review, completed in March 2016, was undertaken in line with best practice guidance, particularly methodologies supported by the Global Reporting Initiative (GRI) and AccountAbility.
In particular, the GRI states that a combination of internal and external factors should be used to determine whether an aspect is material, with priority given to material aspects based on "influence on stakeholder assessments and decisions" and "significance of economic, environmental and social impacts to the organisation".
Similarly, AccountAbility says organisations should "choose internal and external criteria to identify those issues relevant to drivers of business strategy and performances, and those issues which are most important to the stakeholders. The external criteria should be weighted to reflect most strongly those stakeholders that can influence the business".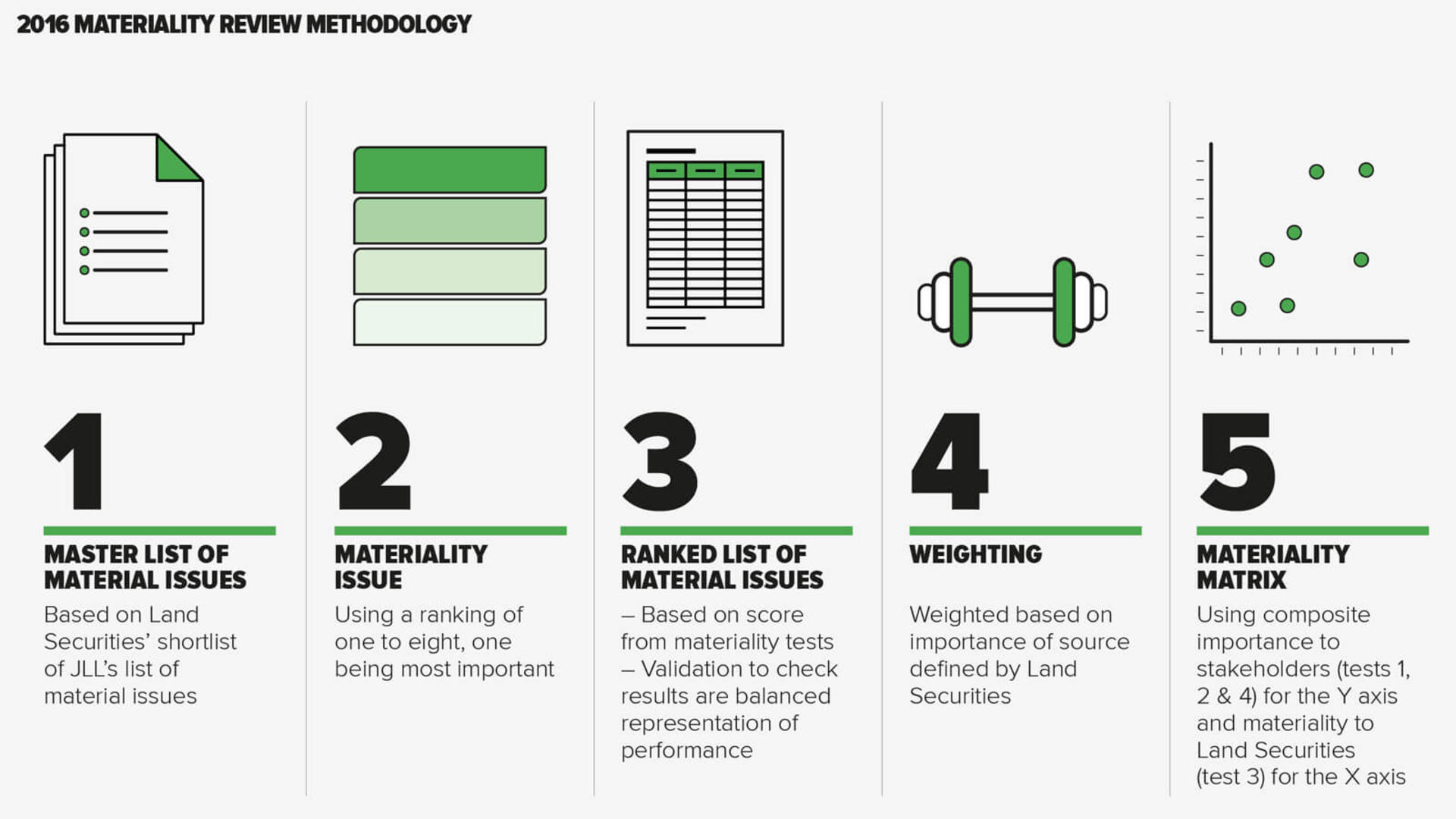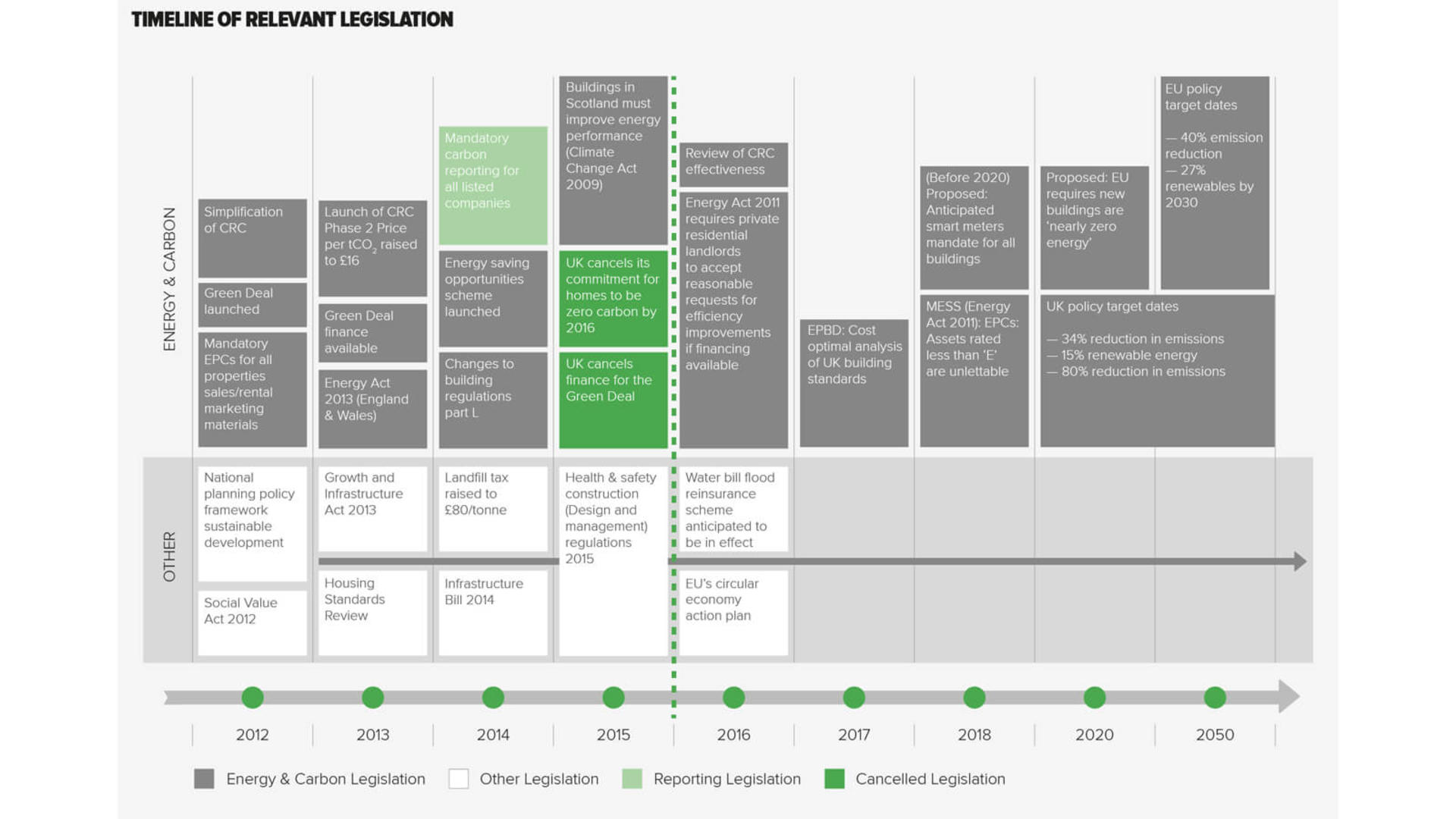 Master list of material issues
The first step of the review was to identify the potential list of sustainability issues relevant to us as a UK-based property company. A number of issues were adjusted or excluded to reflect the nature of our business, areas of operation and portfolio.
The final list of material issues was:
Biodiversity and green infrastructure
Building health, wellbeing and productivity
Climate change adaptation
Community programmes
Crime and safety
Diversity
Energy and carbon
Enhancement of the public realm
Health and safety
Job creation
Local economic development
Responsible supply chain management
Sustainable building design
Transport connectivity and accessibility
Waste
Water
Legislation review
The review then identified the key legislative risks associated with the master list of sustainability issues. This looked at all predicted and scheduled EU and UK legislation related to the material issues through to 2020. It also noted UK and EU policy targets out to 2050.
Peer review
The next step was to conduct a review of the targets set by industry peers for each of the issues included in the long list of sustainability issues. The review found considerable range in the number of targets set for issues, from no publicly set targets for some areas through to 30 for energy and carbon. The latter is clearly an issue of considerable focus for peers, with 11 more targets set in this area than the second highest ranked issue, sustainable building design, which itself relates to energy consumption and carbon emissions.
Internal engagement
Engagement was undertaken with employees who are directly involved in delivering our sustainability strategy to identify the issues they believe are most material. Interviews were conducted with senior representatives from London and Retail, and an electronic survey was sent to team members. Interviewees and survey recipients were asked to identify eight material issues they thought we should address from the master list of sustainability issues.
External engagement
Interviews were then conducted with a range of external stakeholders. These included customers, investors, supply chain partners and community organisations.
Energy and carbon was considered the most material issue externally, with nearly 60% of interviewees suggesting it was either the most or second most material issue. Local economic development and Building health, wellbeing and productivity were seen as the second and third most material issues, reflecting growing interest in both of these areas. Responsible supply chain management was also considered to be particularly important.
During the consultation process interviewees were asked to comment on their current relationship with Landsec around sustainability and how they would like this to evolve.