Having a diverse workforce at all levels of our company will ensure we make better decisions – for our business and for our stakeholders. We believe that employing a diverse mix of people makes us a stronger and more sustainable business and one that reflects the diverse society around us.
Our ambition is to lead from the front on diversity and inclusion, because we know getting this right is critical to our long-term success. We have made some progress over the past year, but recognise we still have a way to go. We are not yet representative of the communities we serve, and still have work to do in nurturing a culture of inclusion where we can all be our authentic selves in the workplace. 
What we've achieved 
In 2019, we set some specific targets to support our ambitions, but progress towards these has been mixed. In the representation of women at leader level, we moved from 19.5% in March 2019 to 24% in March this year, but at Senior Leader level, we moved back to 30% from 38% last year. Across the whole organisation, though, 52% of our employees are women, exceeding our 50% target for 2025. Generally, we have made significant progress on improving levels of disclosure and have a much better base to measure progress from. Our representation of black, Asian and minority ethnic (BAME) employees is also very encouraging – 17% across the organisation, comparing favourably with the UK benchmark of 14%. 
We have also made progress at Leader level, up to 11% from 7% last year, but we don't have any BAME employees at Senior Leader, Executive Committee or Board level. Our representation of employees disclosing they are lesbian, gay, bi-sexual and transgender (LGBT) remains at 3%, though 11% of our employees have not disclosed their sexual orientation, a figure that has reduced from 15% last year. We want to build on the momentum of having more employees tell us about their sexual orientation, ensuring our LGBT colleagues can be themselves in the workplace.
We will undertake some external benchmarking in 2020 to measure our progress in becoming an inclusive employer for LGBT people. We want to create an environment where employees feel comfortable telling us about a disability, and 3% have done so. However, 10% have not recorded their details or prefer not to say. Having achieved the status of Disability Confident Committed level 1 (external accreditation as an inclusive employer for disabled people) in 2019, we will now focus on achieving level 2 and 3, and aim for all employees to have a rewarding career irrespective of their personal characteristics.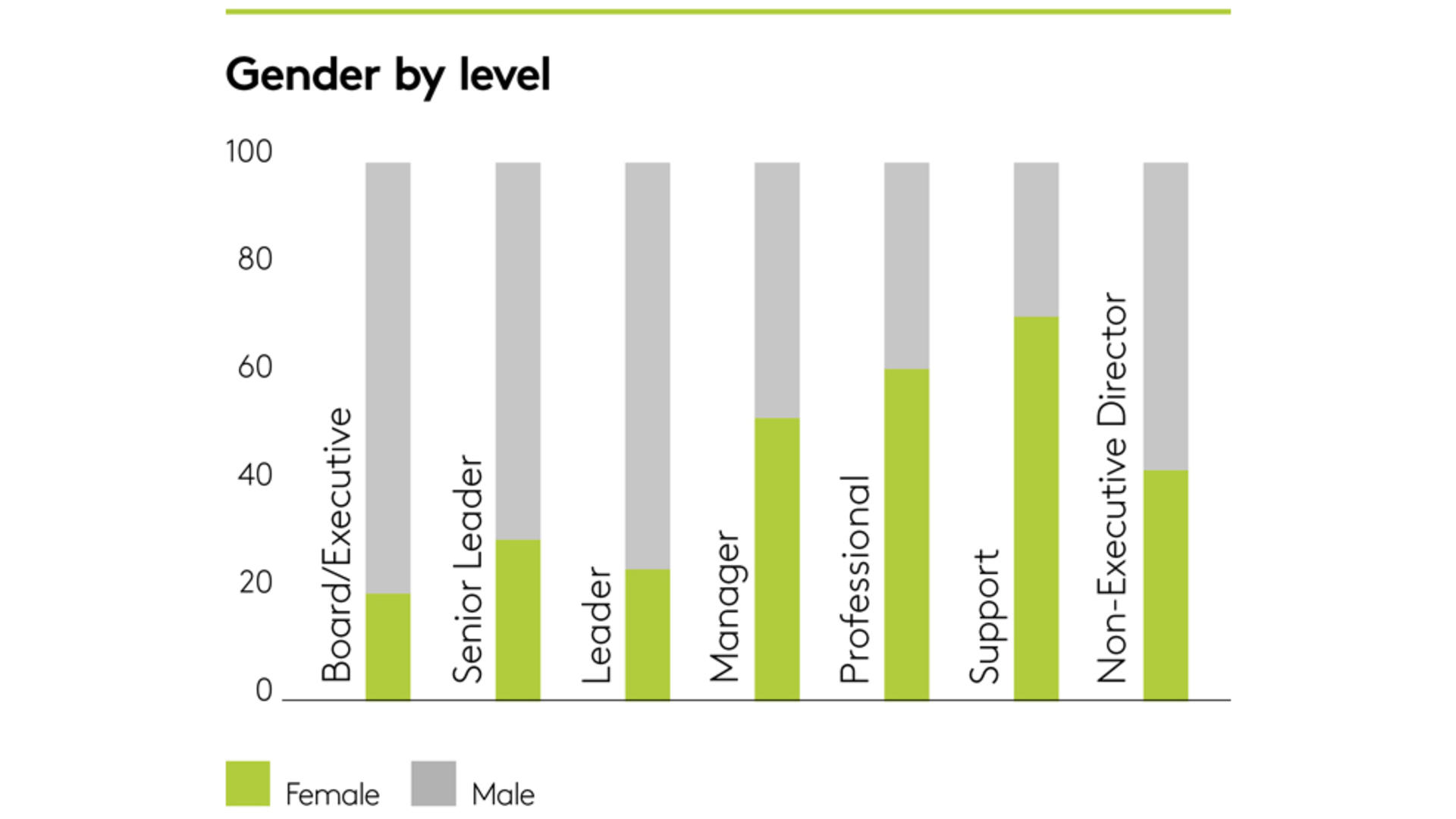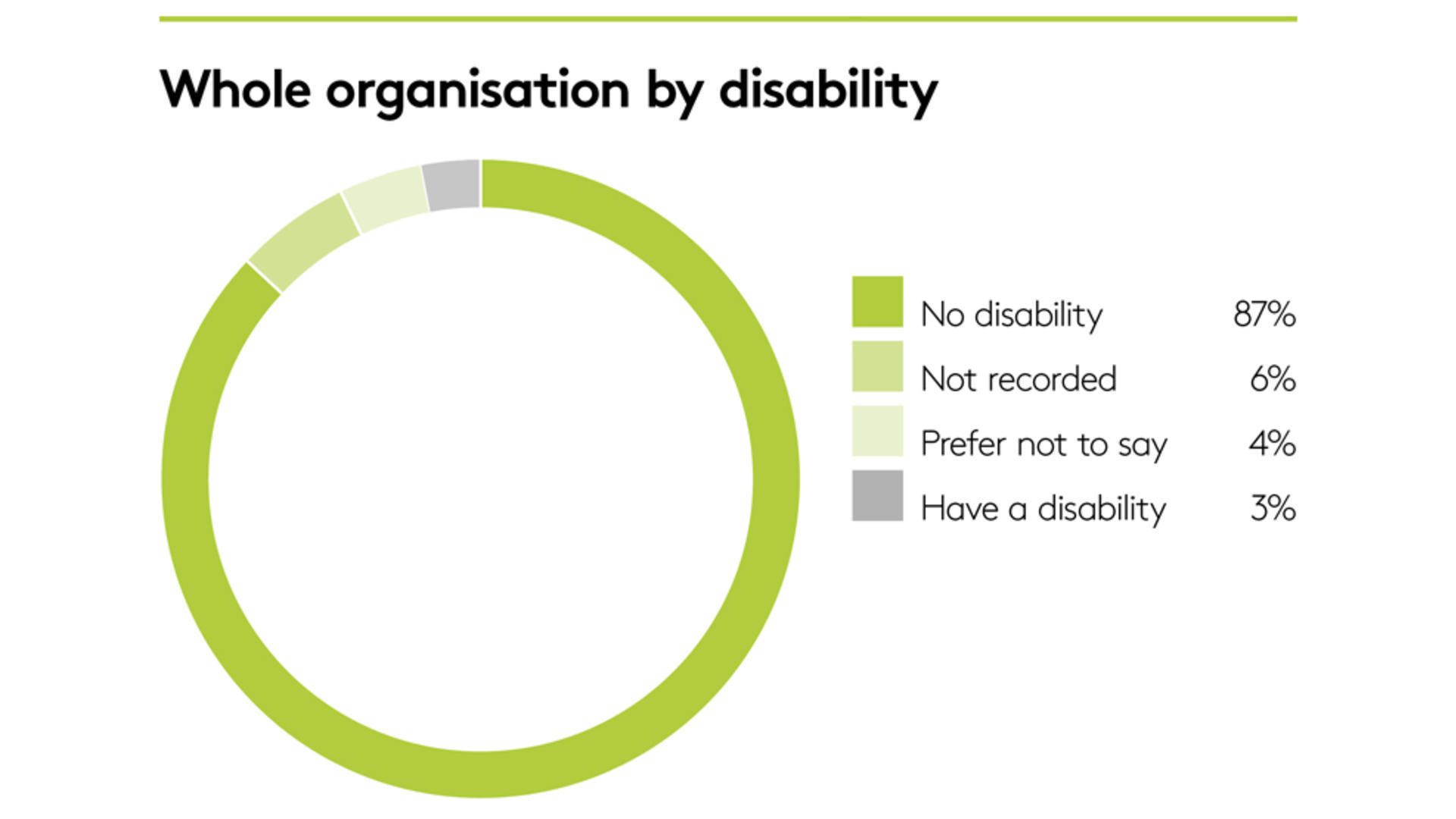 Whole organisation by disability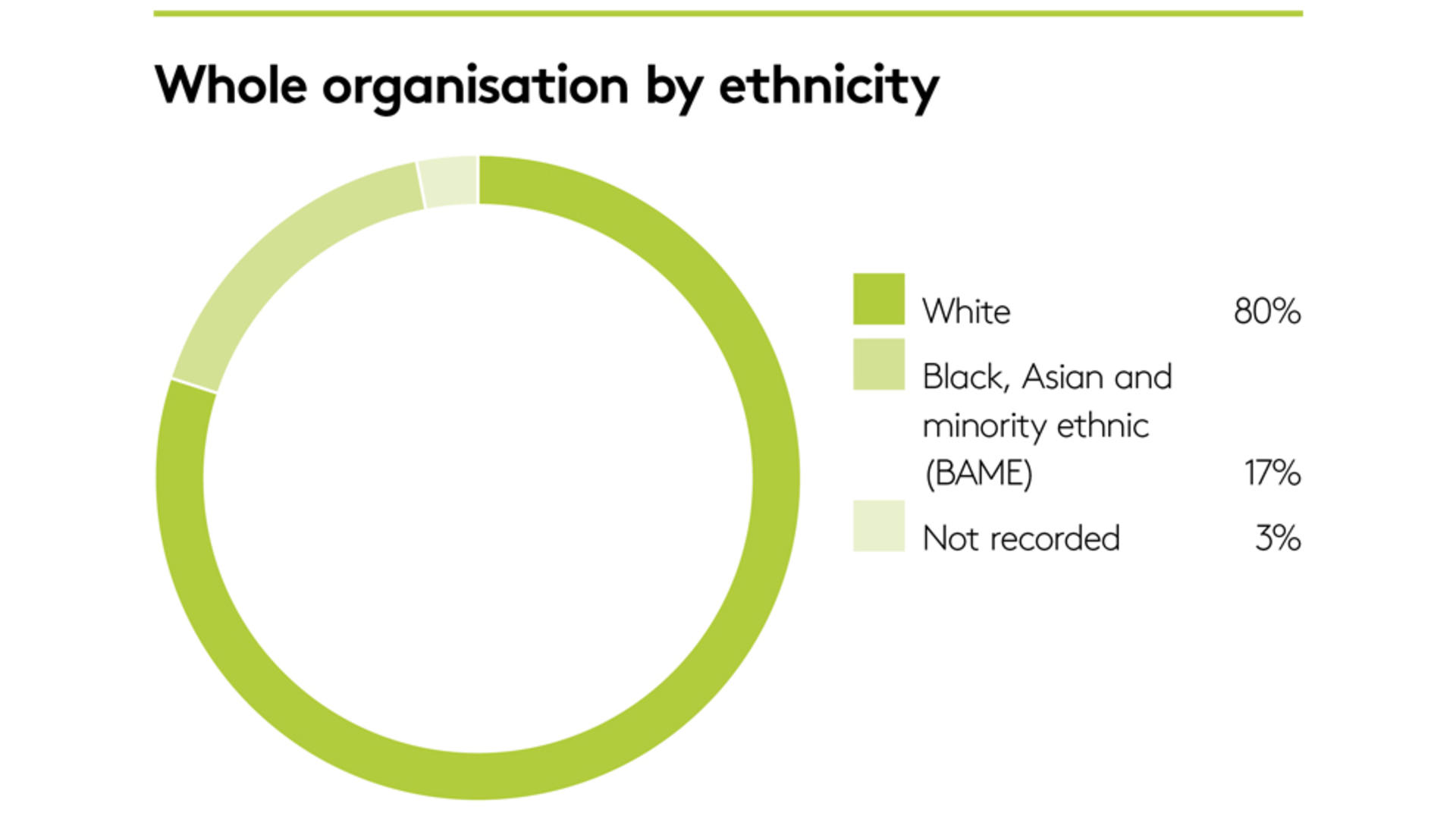 Whole organisation by ethnicity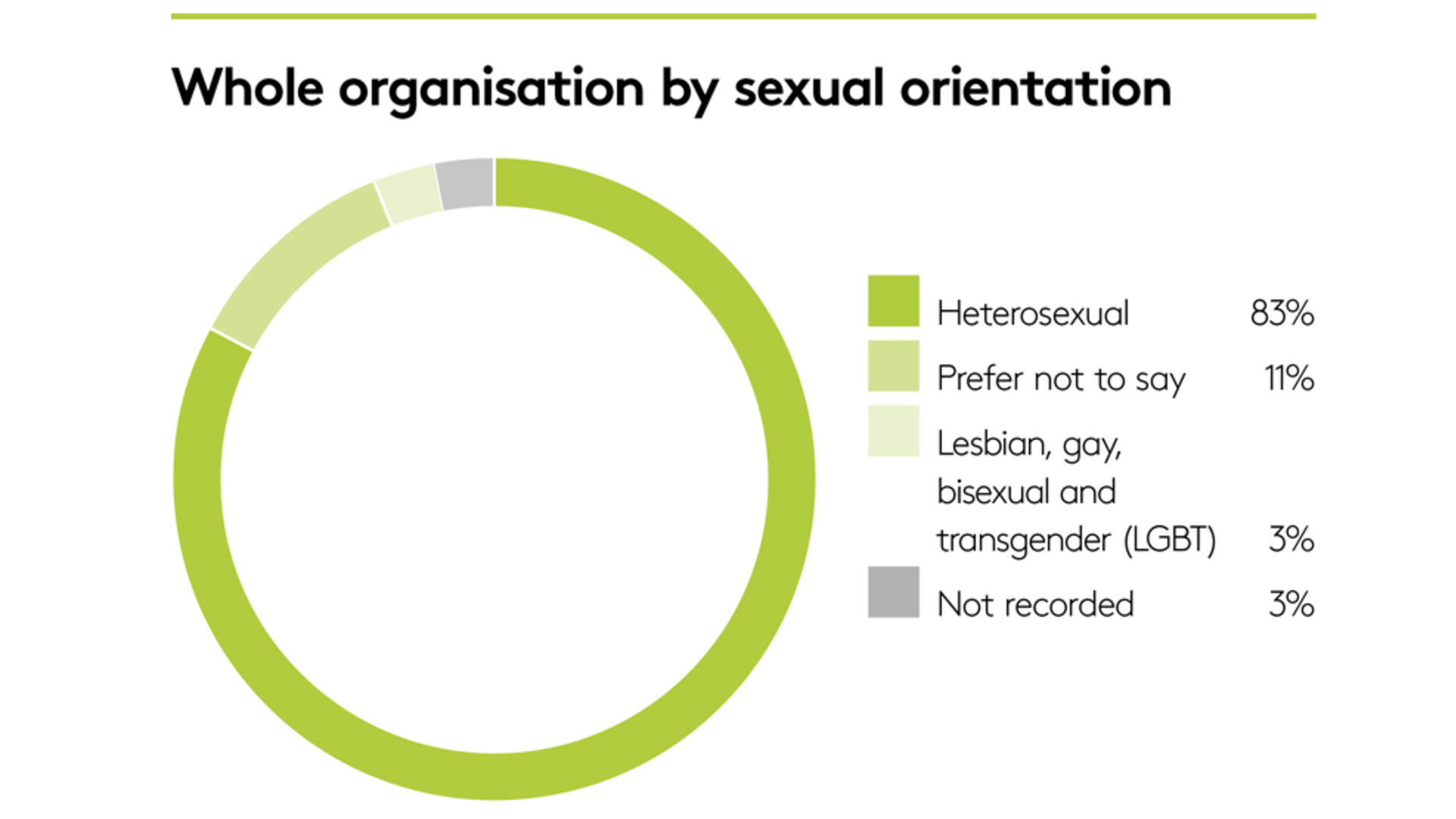 Whole organisation by sexual orientation
Affinity networks
This year, our affinity networks have played a key role in continuing to establish an inclusive culture across Landsec. Our Women's network hosted a panel discussion to look at cultural and structural barriers women face in the workplace, as part of International Women's Day. The event was useful in educating employees about some of the intersectional challenges women face in the workplace, and the ways organisations have overcome them.
Working with our Disability forum this year, we took part in Purple Tuesday across the organisation, a campaign established to recognise the needs of consumers with disabilities. Many retail assets took part, promoting inclusive shopping with a purple theme in their lighting and promotional items for our customers, such as purple lanyards, flyers and T-shirts. The Disability forum also supported Autism Awareness Week by co-ordinating with our assets to provide quiet periods and dimmed lights for autistic customers. Keen to ensure this support for autistic customers is ongoing, we signed a pledge to provide tailored support across all our properties.
The LGBT network reviewed our policies to help ensure they are inclusive of LGBT people, and they also supported London Pride this year, where our Piccadilly Lights were centre stage of the celebrations. The LGBT network also sponsored Freehold, a leading and unique networking forum for lesbian, gay, bisexual and transgender real estate professionals working within the real estate sector. The property sector considerably lags behind other industries in tackling sexual orientation issues; our support of Freehold enables us to take a leadership role in helping to address the equality gap for the LGBT community.
Changing the way we work
We will do all we can to ensure diversity and inclusion are central to the way we work by 2025. To help, we've appointed a diversity and inclusion manager, a new role for Landsec, and an appointment we believe will enhance our efforts to meet our diversity goals. We want to support people throughout their careers, and that means in life outside Landsec, too, removing traditional barriers for those with caring responsibilities. 
This year we've enhanced our parental leave allowances so employees can balance their home and work life more effectively. We now offer six months' fully paid parental leave to all employees – an increase of 10 weeks. It's important that people have the opportunities to spend more time with their children as their families grow, and that we can ease the financial pressures new and existing parents can often experience.