Constructed in 1997 to meet demand in south Leeds, away from the city centre, White Rose will benefit from big changes in 2017 when a significant extension of leisure facilities opens.
This will extend the centre's vibrancy into the evenings and help it continue to draw in a wide range of visitors from further afield, while also retaining its appeal to loyal locals. The combination of these two customer groups has made it a highly successful commercial venture to date.
Expanding space, extending hours
White Rose already holds a secure position within the Leeds economy, but we believe it has the potential to become even better by adding more leisure facilities and a late-night element.
Our research showed that customers visiting White Rose as a destination for shopping or leisure activities often visit in the evening.
That's why the additional 65,000 sq ft of new space – the equivalent of the Leeds United Football Club pitch at Elland Road, 1.5 miles to the north – centres on new restaurants and an 11-screen Cineworld cinema with IMAX to make it an active hub into the later hours.
The six new eateries perfect for an evening visit are popular family favourites Wagamama, TGI Fridays, Pizza Hut, Five Guys, Limeyard and Chiquitos – all of which appeal to the centre's existing visitor demographic.
A changing retail destination
As well as the additional leisure facilities, a £600,000 investment into the family and disabled facilities will make White Rose as accessible and user-friendly as possible.
The centre already has its own police station and bus station, and as part of the new plans we're in discussions with Leeds City Council about building a dedicated train station on the site too.
It's not just transport that's expanding, many retailers are grasping the opportunity to take more space for their stores. The biggest expansion is being undertaken by Next, which is spending £6m and moving into a 55,000 sq ft unit that will become an anchor store.
Remaining at the heart of the community
White Rose takes its name from the traditional symbol for the House of York, which is appropriate given how well it is embedded in the area and how important it is to local life.
Its convenient retail mix includes grocery shopping as well as clothing and fashion brands, which means it has always had a family vibe. The centre's staff pride themselves on offering a "warm Yorkshire welcome" to all visitors, and our 100 staff frequently collaborate with our sister development, Trinity Leeds, in city-wide campaigns and special events.
While Trinity remains the heartbeat of Leeds city centre, White Rose sits within a valley to the south, in between the areas of Middleton, Beeston and Morley. And with 40% of its 3,500 employees living within these neighbouring areas, the centre has a local, family-friendly charm and a key role in the community.
Blossoming potential
With 5,000 free parking spaces as well as good public transport links, White Rose continues to be a place where customers return time and again, and always receive a warm welcome.
With the changes we're making and amenities we're adding, we're not just expecting more customers and longer visits – we're also creating more jobs and increasing the site's potential too. All in all, the future at White Rose looks rosy indeed.
>£200m
Market value range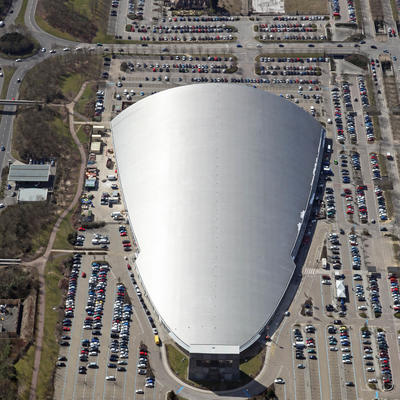 Next