Investing through the lifecycle
To create value we buy, develop, manage and sell property, drawing on a range of financial, physical and social resources along the way.
We aim to be a sustainable business by anticipating and responding to the changing needs of our customers, communities, partners and employees. We act early to position the Group for the conditions we see ahead and we take a long-term view of value creation. For us, it's about transforming financial, physical and social resources into financial, physical and social value for our shareholders and society.
Where we acquire or develop, we work closely with customers and communities to ensure the new space meets their needs and expectations. We manage the majority of the buildings we own which means we get to see how people interact with them and hear their views. Because we have direct control of assets, we can then take decisive action to improve things for the better.
Across the company, we aim to develop and manage buildings in a sustainable and innovative way; make efficient use of natural resources in everything we do; and create jobs and opportunities for the people who live near our assets, including groups who are furthest from employment.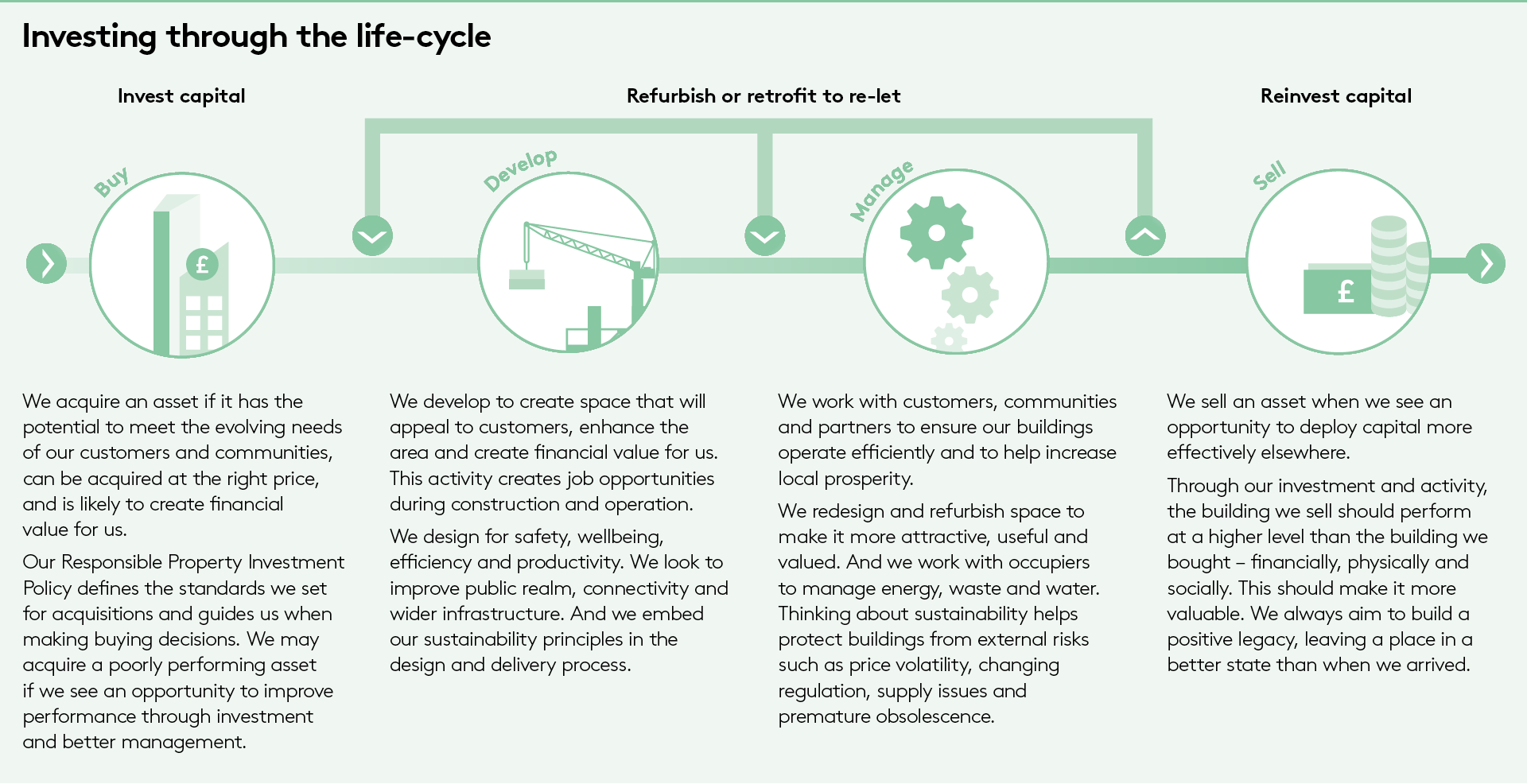 Embedding sustainability in investment decisions
As we move through the market cycle we expect to start seeing good opportunities to buy assets. Price is very important, of course, but our number one priority is whether an asset has the potential to create long-term sustainable value. We must consider if it will meet the changing needs of our customers and communities, and also assess how it will be affected by environmental, social and regulatory changes.
Our approach to responsible investment
We assess our acquisitions against a wide set of criteria using powerful tools, with sustainability informing every consideration. Our assessments cover all three of our strategic priority areas – creating jobs and opportunities, efficient use of natural resources, and sustainable design and innovation. The importance of this due diligence work was underlined by the publication of our  Responsible Property Investment Policy, which clearly sets out the standards we've set for all future acquisitions.
Through this approach, our sustainability and property portfolio teams work together from day one to assess the current condition and future potential of an asset. That enables us to understand the property through the lifecycle and take a more detailed look at future risk. With swift decision making often essential when buying, our teams work to ensure this deeper consideration of an asset's future value supports rather than hinders investment decisions.
Our approach to new developments
We believe great places are for people to experience and are made with the experience of great people. From the impact of climate change on the built environment, to high levels of unemployment and disadvantage in some local communities, to a lack of diversity within our industry, the challenges we face are numerous and complex. So how can we continue to create the best possible experiences? We need big ideas and new thinking. We need to be open to new ways of doing things and challenge the status quo. We need to constantly look for ways to deliver better results.
With this in mind we use our Sustainability Brief for developments to create even better assets and experiences in collaboration with our partners. The brief centres around creating jobs and opportunities, efficient use of natural resources and sustainable design and innovation.